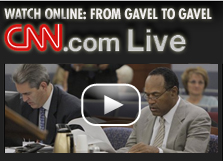 Editor's Note:
O.J. Simpson is on trial for robbery and kidnapping charges nearly a year after police arrested him in Las Vegas, Nevada. Prosecutors say Simpson and five other men stormed into a Las Vegas hotel room last September 13 to recover sports memorabilia that Simpson said belonged to him. They say at least two men with Simpson had guns as they robbed two sports memorabilia dealers. The following dispatches come from our Paul Vercammen covering the trial.
--------------------------–
Paul Vercammen
CNN Senior Producer
3:52PM PT
The Las Vegas temperature rose to 1O4 on the thermometer on the Satellite truck run by CNN engineer David Conwell.
By then Santa and barrel man disappeared, and only a handful of media members could be seen outside the courthouse, all of them seeking shade under wide brimmed hats and tents.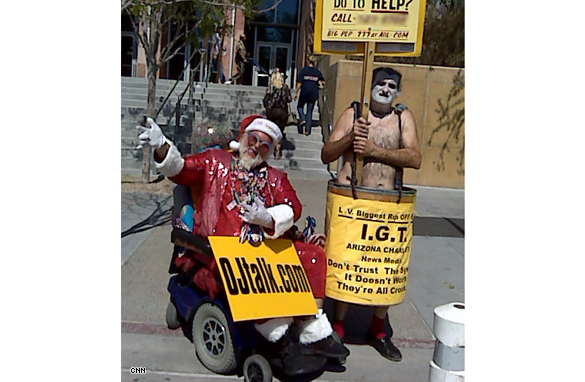 12:40PM PT
Courthouse Grill has two O.J. Simpson specials today..
Orange Chicken with White Rice and Vegetables..
And Orange Roughy with Mashed Potato and Grilled Carrots..
The thermometer on engineer Dave Conwell's CNN Satellite truck reads 99
It's so oppressive that the only survivors of the O.J. Simpson sideshow still trying to get on camera are the sequined Santa and Grandpa Munster in full make up.
Grandpa wanted us to know that he used to be the naked man in the barrel at past Simpson court appearances and the caped character says he will strip and change later.