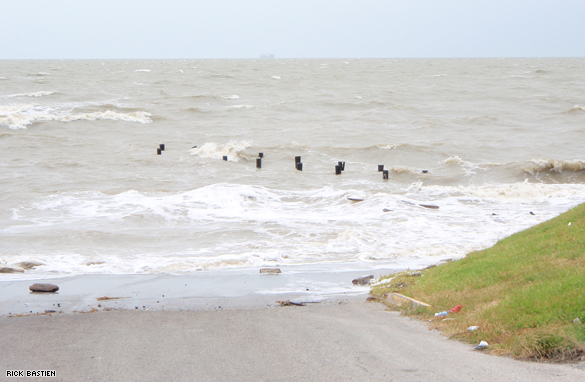 Rick Bastien
CNN Media Producer
In Bacliff, many residents not evacuating...
When asked how he has prepared for the storm, resident Steven Alexander said "it ain't nothing but a little wind and rain." Steven said he's been nearly a lifelong resident of Bacliff, but he hadn't done any preparations for Hurricane Ike; he was only concerned with flooding. This sentiment is shared with several other residents of the small Galveston Bay town.
Charles Slaydon has also lived in Bacliff his entire life, and he survived a typhoon during Vietnam war while staying on a Navy ship. Slaydon runs a local business repairing and buildings masts for boats, and joked that the hurricane could "break every one of those masts." But Slaydon, who carries his pet parrot, Gracie, on his shoulder, also acknowledged that Ike is going to be a lot worse than the locals expect, saying "there's a lot of people who don't think this storm is as bad as its going to be, but it's a bad boy".