[cnn-photo-caption image=http://i2.cdn.turner.com/cnn/2008/images/09/12/art.vert.rod.griola.jpg caption="CNN cameraman Rod Griola in Houston, Texas, waits for Ike to make landfall." width=292 height=320]
Rod Griola
CNN Photojournalist
Waiting for the storm is an anxiety inducing event. One can image what people in the Houston and Galveston area are thinking right now with a massive, water-filled guest, named Ike, about to call. Outside our hotel in downtown Houston 2 bars are open, people are sitting outside having a drink. I can't say how they feel exactly but a beer seems to bring things down a notch.
For myself, waiting for IKE to do something here, in Houston, is uneasy. I'm a cameraman with CNN and so my assignment thus far has consisted of preparing supplies, being ready to work at a moments notice, and to shoot video when the storm gets to Houston.
At this moment it hasn't, so I wait. It is a nervous wait.
I keep myself busy with searching the storm path, over and over and over again. I search for where the flooding historically occurs in Houston. I find a weblink that shows where the watersheds are in Houston. I look at the maps. I sort of understand the maps.
I have a link on my web browser to NOAA's tracking page of IKE, I check it several times again, even though NOAA updates it once every 3 hours. One of the AC360 producers asks me to help out with Anderson's 8pm liveshot. I head out to help, again trying not to think about how I'm not shooting any storm video right now, I help do a mic check.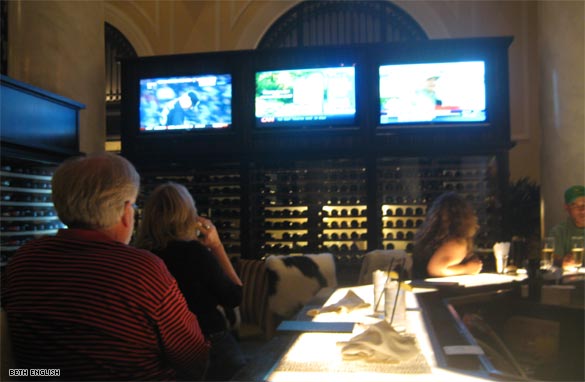 In our hotel the bar is open, and people are gathered watching ESPN, CNN and Houston's Channel 11 news. They are watching the storm updates over and over and the community safety officers telling people to stay home if you haven't left yet. The Yankees game is in a rain delay, and the storm is just beginning to thrash Galveston. And we can watch moment by moment as the bands of water inch up the TV screens from Galveston to south Houston.
I know Houston fairly well. My wife and I took a cruise out of Houston about 4 years ago for her 30th Birthday. I've been to Houston this year about 10 times for various work related reasons. But I've not seen Houston like this. It's waiting for this storm so quietly. I've been told I probably won't have start shooting until close to daybreak, CNN has a lot of crews here and they don't want to burn everyone out, because once we start working, sleep will be the absent thing.
So Houston and I wait...