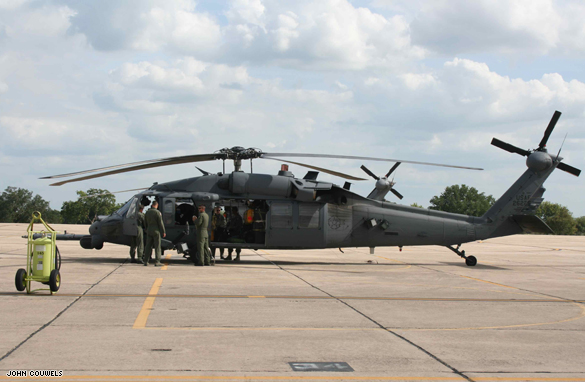 John Couwels
CNN Producer
[cnn-photo-caption image=http://i2.cdn.turner.com/cnn/2008/images/09/12/art.couwels.operations.jpg]
Military search and rescue teams arrived today at Randolph Air Force Base in San Antonio to set up staging operations. Helicopters teams from the 331st Air Expeditionary Group following the storm will assist Texas officials search for people in trouble.
In preparation for their missions starting tomorrow, a command center was being wired at the last minute. The public affairs official took the media on a tour of the nerve center that was filled with electricians, IT specialists and radio controllers. Col Steve Kirkpatrick said the staff would work through the night to have a high tech headquarter ready by morning.
We were told a surveillance system only used in combat would be deployed for the first time in a hurricane. Following the storm high tech cameras would be deployed on aircrafts to survey the damaged areas. The video would be streamed back to the command center in San Antonio giving search and rescue teams more detailed information. If it goes as planned dispatchers would receive a live feed on a screen showing people in distress. Their circumstances and the exact location of the emergency could be relayed to the helicopter teams in the air allowing them to respond quicker.