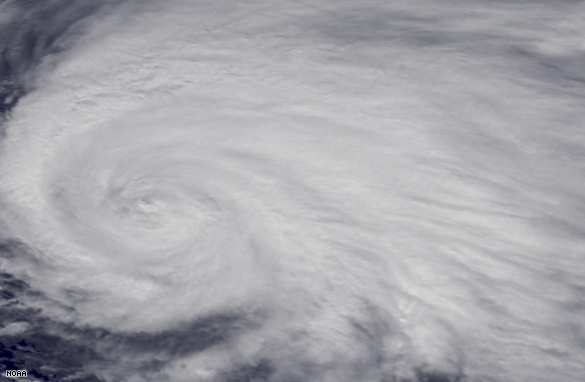 Editor's Note: The following is a first-person account by James McFadden, a NOAA official flying through Hurricane Ike to gain information on the storm. He shares this dispatch from their airplane:
James McFadden PhD
Chief of programs at the NOAA Aircraft Operations Center
Good evening from Hurricane Ike as it begins to make its way onshore in the Galveston, TX area.
We are aboard one of NOAA's two WP-3D Orions completing a series of seven consecutive missions at 12 hour intervals into Ike that began Tuesday afternoon and culminating with the flight of NOAA 42, also known as Kermit, this evening.
NOAA has been using its P-3s in this fashion now for a couple of years to collect Tail Doppler Radar (TDR) data from which three-dimensional horizontal wind fields can be generated, transmitted from the aircraft to the ground via satellite and assimilated into hurricane forecast models in an attempt to improve intensity forecasts.
NOAA does quite well in its track forecasts, but improvement in intensity forecasts has been rather flat-lined over the past 10 years.
Scientists from the NOAA/NWS Environmental Research Division are working in concert with the NOAA Aircraft Operations Center to collect these data in storms ranging in intensity from a pre-depression stage through early hurricane stage.
For storms in the Gulf or near the east coast we will fly these missions every 12 hours regardless of the size of the storm because of the immediate threat to the U.S.
It has been a busy couple of weeks for the NOAA P-3s. Over the Labor Day weekend these aircraft flew a series of six flights into Gustav as it moved across the Gulf and into Louisiana.
Following this one of the P-3s flew a reconnaissance mission into Tropical Storm Hanna and then flew a series of two flights on successive days into Ike when it was a Cat 4 north of Puerto Rico. The first flight terminated in St. Croix, Virgin Islands while the second brought the aircraft back to MacDill Air Force Base in Tampa, FL.
We are also engaged in a second joint experiment on wind speed and direction operations. This is an ongoing project in which microwave scatterometers carried aboard the P-3, which are similar to those on these two satellites, are flown in regions of high winds and heavy precipitation to provide information for the satellite measurements.
In this regard, Kermit and its crew of 17 pilots, navigator, meteorologists, engineers and technicians have made seven eyewall penetrations tonight, one of these being at the exact time of the overpass of the QuickScat satellite. The data collected from the scatterometers will be used to improve the algorithms employed by the satellites to provide the ocean surface wind data.
As to the flight tonight, it was relatively smooth as far as hurricane missions go. No major bumps were encountered and the crew was relaxed during it. If you are old enough to remember how they graded rides at Disney World – A thru E with E being the roughest or most challenging, Ike would grad out as a B. We noted that the storm was strengthening as it approached the Galveston area, that it was a very wet storm and that the wind field was very broad.
We are currently heading east toward home and are observing hurricane force winds at the surface 80 miles from the center and almost 150 miles at our flight altitude of 8,000 ft
Tropical Storm force winds at the surface look like they will extend at least 200 miles east of the storm.
While high winds will be a major concern of this storm, heavy rains are likely to cause serious flooding. Much will depend on how long Ike lingers in the area before moving off to the northeast, but it does not look good.
Sorry this got out of hand. Thought I would provide you with some facts that perhaps you can rhaps I'm just to excited about what we do. And too, it's a bit hard to proof this in the din of the lights in the cabin. I apologize for any spelling or grammatical errors.
We just passed a huge oil rig fire in the Gulf 28 48N and 90 40W. It was a spectacular finish to an otherwise routine flight...