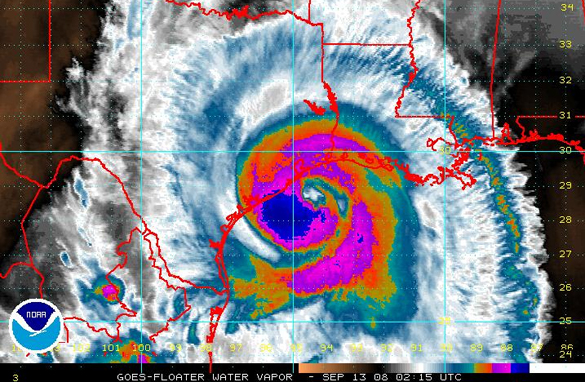 Water vapor imagery from NOAA GOES Satellite shows Ike intensifying near the Texas Coast.
__________
Sean Morris
CNN weather producer
Ike remains a strong category 2 hurricane … and could become a category 3 hurricane right before landfall. Hurricane-force wind gusts are now occurring on Galveston Island. Maximum sustained winds are currently 110 mph. An increase of 1 mph would make Ike a major category 3 hurricane.
Ike is moving toward the northwest at 12 mph, and is located about 55 miles south-southeast of Galveston, TX. Ike should make landfall along the Texas Coast between 2 a.m. and 3 a.m. on Saturday morning. The National Hurricane Center urges people not to venture outside in the eye when it comes ashore. The strongest winds and highest surge will likely occur near or just after landfall.
Dangerous storm surge will occur at landfall. Storm surge along a few of the coastal bays could reach 25 feet or higher.
Ike is a very large hurricane. Hurricane force winds extend outward up to 120 miles from the center. Tropical storm-force wind gusts extend outward 275 miles from the center.
Isolated tornadoes will be possible tonight in Texas and Louisiana as Ike moves northwestward.
Ike could produce isolated rainfall amounts of 15 inches or greater.
Intermediate advisories will be issued by the National Hurricane Center at 12 a.m. CDT and 2 a.m. CDT followed by the next complete advisory at 4 a.m. CDT.