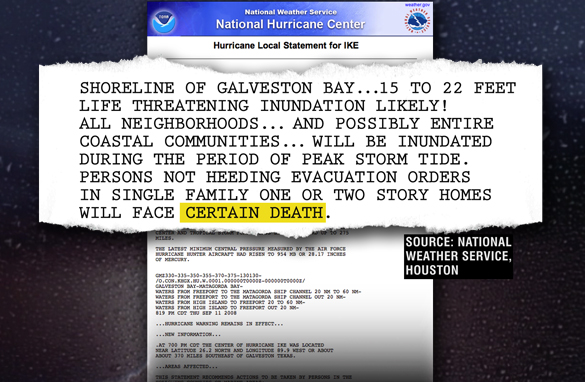 Susan Roesgen
CNN Correspondent
"Certain death"– that's what the latest National Weather Service bulletin says will happen to those who don't heed the warning to get away from Hurricane Ike as it blasts away at the Texas coast.
The language in that bulletin is shocking– and it should scare the pants off of anyone within range of it. Take it from me, the reality may be even worse than the warning.
That bulletin reminds me of the one that Robert Ricks sent out the day before Hurricane Katrina.
Ricks was the National Weather Service officer on duty in Slidell, Louisiana, responsible for sending the official Katrina forecast.
Ricks' bulletin predicted much the same–widespread damage, property loss, uninhabitable homes, flooding– and death.
The warning was so dire that Ricks' higherups in DC questioned him about it–but he stuck by it. And as we all know, the reality of Katrina was even worse than that dire warning.
Ricks– like any meterologist–is a man of science. But he told me that, for some reason, he did something the day he put out the warning–something he had never done before.
He brought a rosary to work.
Ricks' warning of Katrina's wrath.. and his rosary... are now in the Smithsonian Museum.