Editor's Note:
We are devoting many posts today to the anniversary of 9/11, with first-hand accounts, insight, and commentary dedicated to that day seven years ago that changed our world.
_____________________________________________________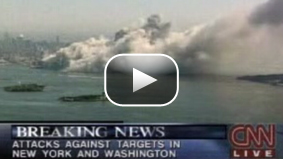 See some of the images Ricky Shine filmed that day for CNN in this special look back at the first hours of 9/11/01 as events unfolded. Viewer discretion is advised.
Ricky Shine
CNN Photojournalist
"It's going to a beautiful day", I thought to myself as I headed to Manhattan from Queens. There was no haze, it was as clear as can be, and the sky was a deep blue. While driving on the Long Island Expressway towards the Midtown Tunnel, I looked in awe at the city skyline just as I did everyday on my way to work.
I was listening to the morning news on CBS radio. Everything seemed normal as I drove into the darkness of the tunnel. As usual, while in the tunnel I temporarily lost the radio signal. As I exited the tunnel and the radio signal strengthened, I heard the newscasters cut in with breaking news.
"The World Trade Center has been hit by a small plane" they said.
As I was driving rapidly across 34th street, I remember thinking to myself that I might be sent down to the World Trade Center to cover the accident. I kept driving to work and trying to sneak a peek at the Trade Center to see it for myself. When I finally caught a glimpse, I realized that it couldn't have been a small airplane. It had to be a big jetliner because you could see the outline of where the plane went into the building and the wingspan went from one side all the way to the other. I called my assignment desk and was told that my partner already took my gear up to our deck on the roof of the CNN building and I should head straight up there.
As I reached the deck, I saw my partner already shooting with my camera. I ran to the camera position and immediately took over. I put on my headset so I could communicate with the director, and zoomed into the 1st tower of the World Trade Center to show the damage that the plane had caused. It was at that point that I saw out of the corner of my eye, a big explosion in the 2nd tower and zoomed out to see both buildings which were now billowing with smoke.
It was at that moment that I realized we were under attack, and life, as we knew it, would never be the same.