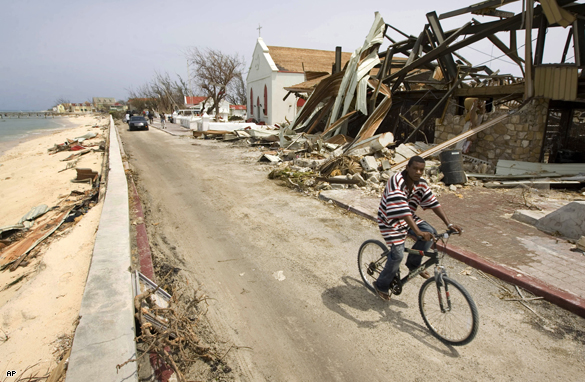 John Zarrella
CNN Miami Correspondent
Lea and jean Astwood did laundry in a tub that before Ike, they used to feed their horses.
Now, on Grand Turk Island it is the only way to clean clothes. There's no power. Nearly every power line on this one mile wide by seven mile long island is down.
British warships off the coast are supplying some water and basic needs. Shelter is a priority. We flew into Grand Turk with the premier Michael Misick.
The premier told me that getting a tent city up and running is an immediate need. Nearly all the homes and businesses on the island sustained some damage. Most sustained considerable damage. Some lost roofs. Many have gaping holes.
But the people are already well into the clean-up. Roads are clear. Debris is being moved.
Perhaps the most amazing aspect of this story is survival. No one died. And there were few injuries.
While Grand Turk and South Caicos island were hammered by Ike, Providenciales sustained only minor damage. Power is back on across most of that island.
Premier Misick says is critical to the rebuilding. Propvidenciales is the tourist center. It's the economic engine that runs these islands. Getting the visitors back as soon as possible will get the money flowing the government needs to help rebuild. Misick says damage is in the several hundreds of millions.
But most importantly Misick says everyone is alive.