Jim Spellman
CNN Producer
NOLA cops sheltering at the infamous Morial convention center are calling into local talk-radio shows to complain about bare-bone conditions in the sprawling facility.
I was able to tour the facility earlier this evening as day-shift officers streamed into the convention center.
One small section occupied by NOPD's Public Integrity Bureau—their internal affairs division-had cots and food. The rest of the officers were trying to get comfortable on bare concrete floors and they weren't happy about it.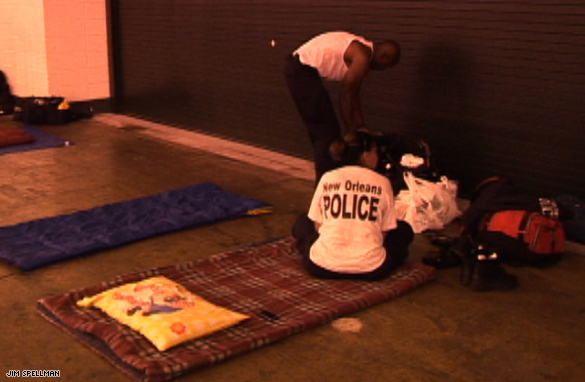 One stack of bottled water and some MREs arrived as I was leaving.
A female officer called into WRNO's 'Castner & Walensky' to report cockroaches and a lack of food. Police superintendent Warren Riley called into the show to defend the planning saying cots were arriving from FEMA and sandwiches are on the way.
One officer told me "Homeless shelters are better than this."
NOPD officers, the National Guard and Fire/EMS are sleeping in the convention center while the storm passes.