David M. Reisner
AC360° Digital Producer
Looks like there is another tropical storm out there… no I'm not talking about Hanna (that's now a Hurricane). I'm talking about Ike. Currently located in the Mid-Atlantic, this tropical storm's path appears to be headed toward the Caribbean, towards Puerto Rico, The Dominican Republic/Haiti and the Bahamas.
It's still too soon to know exactly where it will go, or if it will amount to anything, but with two storms spinning out there… one already making landfall, and one more approaching the U.S. coast by the middle of this week… I just wanted to alert you.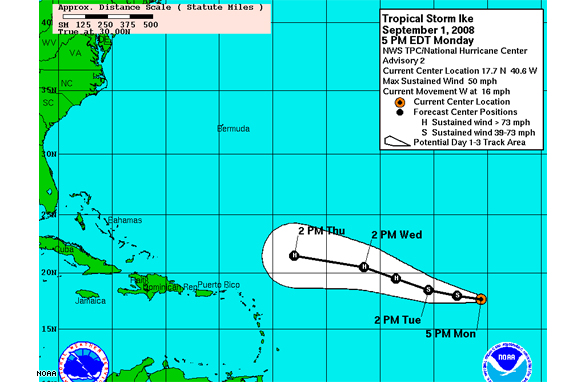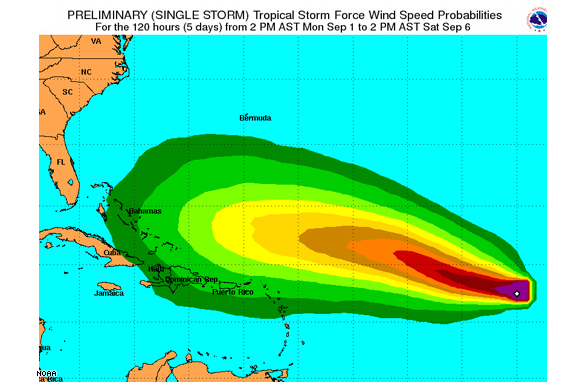 From the National Hurricane Center:

SATELLITE IMAGES THAT THE CLOUD PATTERN ASSOCIATED WITH THE
DEPRESSION HAS CONTINUED TO BECOME BETTER ORGANIZED. THE CONVECTION
HAS INCREASED...CURVED BANDS ARE BECOMING MORE DISTINCT
AND THE OUTFLOW IS FAIR IN ALL QUADRANTS. DVORAK T-NUMBERS FROM
TAFB AND SAB HAVE INCREASED TO 3.0 ON THE DVORAK SCALE. ON THIS
BASIS...THE SYSTEM HAS BEEN UPGRADED TO TROPICAL STORM IKE WITH AN
INITIAL INTENSITY OF 45 KNOTS. GIVEN THE WARM OCEAN ALONG ITS PATH
AND THE LOW SHEAR...IKE IS FORECAST TO REACH HURRICANE STATUS IN
ABOUT 36 HOURS. THE RATE OF STRENGTHENING IS CONSISTENT WITH THE
SHIPS MODEL GUIDANCE BUT MUCH LOWER THAN THE GFDL AND SIGNIFICANTLY
LOWER THAN THE HWRF. THE LATTER MAKES IKE AN INTENSE HURRICANE
NORTH OF HISPANIOLA.

IKE IS MOVING TOWARD THE WEST OR 275 DEGREES AT 14 KNOTS. THE STORM
IS ALREADY LOCATED SOUTH OF A STRONG SUBTROPICAL RIDGE WHICH IS
BUILDING AND EXPANDING WESTWARD ACCORDING TO MOST OF THE GLOBAL
MODELS. THIS PATTERN CALLS FOR A GENERAL WEST TO WEST-NORTHWEST
TRACK FOR THE NEXT 2 TO 3 DAYS. THEREAFTER...AS THE HIGH BUILDS
FARTHER WESTWARD...THE CYCLONE COULD TURN MORE TO THE WEST OR EVEN
WEST-SOUTHWEST . THE OFFICIAL FORECAST IS VERY SIMILAR TO THE
PREVIOUS ONE AND FOLLOWS THE MODEL CONSENSUS. SINCE THE TRACK
GUIDANCE CONTINUES TO BE RATHER TIGHT...THE FORECAST CONFIDENCE
REMAINS RELATIVELY HIGH.