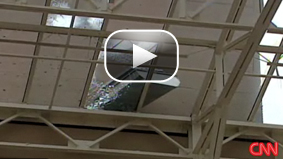 Watch the footage of large debris slamming into the glass roof of the Sheraton hotel in Baton Rouge.
Ashley Fantz
CNN.com
Eighty-six year old Maxine Richardson sat in the lobby of a Baton Rouge Sheraton and watched Gustav whip its fury on bent street signs.
A large piece of metal from a neighboring building flew off and crashed into the Sheraton's glass roof, startling and entertaining evacuees. The glass cracked but didn't break. People applauded.
Richardson was startled at first, but then rolled her eyes. She isn't going to put up with running from hurricanes any longer.
Though there are three generations of family who live with her in New Orleans, she is over the place.
"People were like, 'Oh, aren't you excited to be back home?'" She said, recalling how she moved back in to her home that was destroyed by Katrina.
"I was not happy. I didn't like that place anymore. It made me uncomfortable.
"I want to leave New Orleans and if I go back this time to the same thing Katrina left me, I will find another place to live. Lord Jesus, I hope you hear me because I mean it!"