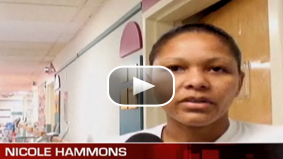 Three years ago this New Orleans nurse cared for patients during Katrina. She decided to volunteer again for Gustav
Matt Sloane
CNN Producer
It has been a long day here at Tulane Medical Center, but luckily, boredom, rather than chaos, is the reason.
I arrived at the parking deck this morning at 5 AM, and everything was relatively calm. By six o'clock, it was starting to get a little windy and rainy. I was gearing up to weather a monster category 3 storm embedded in the hospital.
But the storm came, and went. The biggest issues we've had here all day - a minor water leak on the upper floors, no Starbucks coffee in the cafeteria and one downed tree.
But what if the storm had materialized into a monster? Would Tulane Medical Center have been ready?

Absolutely, says Dr. Bob Lynch, the hospital's CEO.
"A lot of coordination, a lot of planning has gone into getting ready for hurricanes after Katrina. People really understand the need for being prepared down here."
The plan, he told me, was to get as many patients and staff members out as possible before the weather got bad. They succeeded, keeping only 67 patients and a few dozen staff in the building.
Those brave staffers like pediatrics nurse Nicole Hammons – many of whom worked 96 hours straight after Katrina – risked their own personal safety again. They chose to let their own families go on ahead without them, while they stayed here to mind the farm.
"This is what I went to nursing school for," she said. "My family is in Atlanta with my sister, they're doing fine. I'm confident that they're safe, and that allows me to take care of these patients that's a little less fortunate than my kids."
We saw the flood-resistant walls around the generator. We saw the ambulances lined up outside. We saw a staff of highly courageous emergency room staffers at the ready.
Luckily, Tulane didn't need any of those things this time around. Let's hope they don't for a very long time.