[cnn-photo-caption image=http://i2.cdn.turner.com/cnn/2008/images/08/31/art.chubby.jpg
caption="Eric Cohen owns Mister Chubby's Cheesesteaks in New Orleans"]
Jim Spellman
CNN Producer
The French Quarter is all but deserted as Hurricane Gustav bears down on New Orleans, but at least one French Quarter eatery plans on staying open through the storm.
"I'm a gambler by nature I guess. That's why I opened a business in New Orleans." Says Eric Cohen, who moved to NOLA last year from Philadelphia to sell cheese steaks at his Bourbon street restaurant Mister Chubby's.
"I'm staying open through the storm. I'm here to help people get fed. That's my job" he says while serving up eggs and hoagies to a steady stream of police officers, national guardsmen and journalists.
"I'm going to stay here until the National Guard kicks me out. I'm here to help them get fed and help the cops because they're here to help people and they protect me and it's something can do in return."
His father Barry, working the grill behind him, looks less certain but Eric looks like he is ready for an adventure.
"My mom's in Vegas right now doing some gambling, I figure I'll do a little gambling myself down here with my father."
Here are some images:
__________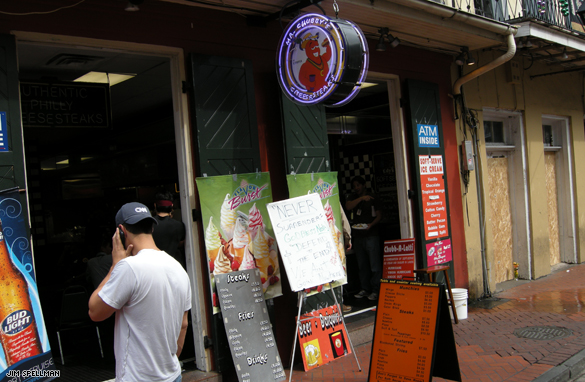 Mister Chubby's a French Quarter eatery plans to stay open during the storm
__________


The sign in font of Mister Chubby's
__________