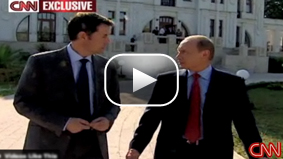 In an exclusive CNN interview with CNN's Matthew Chance, Russian PM Vladimir Putin claims a U.S. role in the Georgia conflict.
Matthew Chance
CNN Senior International Correspondent, Moscow
Something strange and unexpected is happening in Russia. In the aftermath of the war in across the border in Georgia, I am suddenly being granted access to the country's leadership. Remember, this is nation where Western journalists are barely given the time of day by the Kremlin. That is until now.
The call to interview Russian president Dmitry Medvedev came on Tuesday afternoon, out of the blue (although we of course have long standing requests in for a meeting). By Wednesday morning, we were on a two hour flight from Moscow to the Black Sea city of Sochi, with an appointment to have a sit down, one-on-one, interview. We have never interviewed Medvedev since he was elected in March, so we jumped at the chance.
We were corralled into the Sochi press centre, told we had 4 hours to setup our gear, and would be granted 7 minutes of the president's time. As I struggled to decide which questions I should ask in such a short window, Medvedev appeared on Russian state television, somberly announcing his unexpected decision to recognize as independent states the breakaway Georgian regions of South Ossetia and Abkhazia – obscure territories which swept to prominence earlier this month when Russian and Georgia went to war over them.
Minutes later, Medvedev was sitting in front of me, explaining why he had recognized them in the face of international, in particular American, opposition.
Ok, good days work. But there was more: the phone rang and on the end of the line was Dmitry Peskov, Vladimir Putin's press flak. The main man, Prime Minister Putin, wanted to give us an exclusive. A full length, sit down interview.
I should emphasize at this point how big this is for us. Vladimir Putin has virtually single-handedly transformed Russia into a powerful, confident, maybe even aggressive state. He is a former KGB spy, and the former Russian president who eased his protégé and hand-picked successor into the Kremlin job. He denies it, but word is he, not Medvedev, still calls the shots in Russia.
And what's more, he rarely gives interviews. Very rarely. CNN hasn't spoken to him for more than 7 years!!! To get him now, at a time like this, when Russia is so priominent in the minds of Americans and the world, was incredible, fascinating.
And Putin doesn't disappoint. The guy is short, stocky, a KGB trained judo black belt with a cold stare, and his critics would say, more than a little blood on his hands. He made Russia's ruthless crackdown on Chechen separatists into an almost personal vendetta.
He doesn't care for the US much at the moment, either. One of the first things he told me is that he blames Washington for the war in Georgia – for actually orchestrating it to help a particular candidate in the presidential contest. He wouldn't say which one, but the Kremlin has been increasingly shifty about John McCain and what they see as his anti-Russian rants.
There was more, too – the stunning accusation that Americans helped Georgian forces fight the Russians this month! Apparently, some Russian soldiers found a US passport after wiping out some Georgian special forces unit in South Ossetia. What was he doing there? The white house insists Putin is talking rubbish.
But the next revelation is definitely true. As the world debates the possibility of economic sanctions on Russia, Russia has announced what amount to a few of its own on America: Putin says 19 US poultry exports have been found to be in breach of Russian health and safety standards and have been banned. Another 29 are on a watch list. No big deal, I suppose, but not great news in such an economic downturn. Putin said it had nothing to do with the diplomatic tensions, but I'm not sure anyone entirely believes him!
Anyway, point is, things have changed, and here's why from a source who knows: Putin was in Beijing watching the opening ceremony when the war in Georgia erupted. He was constantly watching CNN to see how the conflict was being reported, and he didn't like it. He hated it. He hated seeing Mikheil Saakashvili appealing for Western support, he hated that there was no one on TV putting across the Russian version of events.
Why was there no one? Because there is no access in Russia, we were not allowed to go to the Russian side of the conflict zone. No Russian officials were available to talk to us, as usual. Georgia played the media game, Russia did not.
A decision was taken then to change tack, to engage with the Western media, to aggressively argue Russia's side. The Kremlin, which constantly complains of a bad press, could have learned this lesson years ago. But hopefully they see the value of us now. Doesn't mean we agree with them, or that appearing on CNN will convert the West to Russia's line. But at least they are in the debate now, and that can't be bad for Russia.