Editor's Note: Anderson Cooper 360° is in New Orleans tonight, as Tropical Storm Gustav barrels toward the Gulf of Mexico, expected to reach Category 3. We'll look at whether New Orleans is ready, after being devastated by Hurricane Katrina exactly three years ago today. Watch our special report tonight at 10p ET.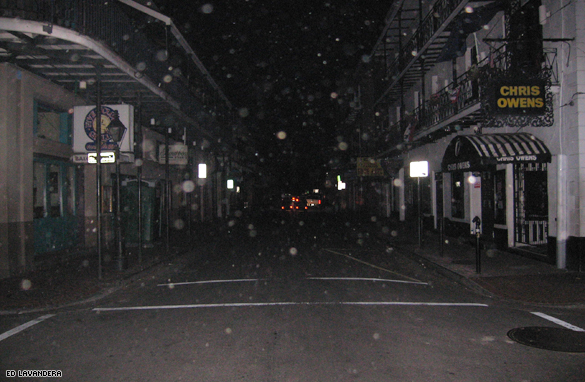 Ed Lavandera
CNN Correspondent
One picture I have stashed away seems to capture the enormity of Katrina. It sits in a stack of old photos from my travels across the country. It's a picture of Bourbon St. The lights are out, except for the moonlight glimmering off the top of some French Quarter buildings. And the street is empty. I mean totally deserted, just me and two colleagues walking down one of the most famous streets in the world. I should call the picture "Bourbon St: Population 3."
It was a late night just days after the storm hit. I remember standing there and thinking (hoping really) that this moment would never repeat itself.

Since then, I've told friends imagine standing in New York's Times Square in total darkness and you're the only person there. Think about it for a second… That will never happen. I think you could have said the same thing about Bourbon St. Any second of the day on every day of the year Bourbon St. was, and now is again, filled with lights, music and people. Even if it's 5am the population of inebriated revelers staggering home is way more than 3. Within weeks the lights came on again, the sights and sounds of Bourbon St returned. But I'll never forget that dark and silent night.
Of course the story of Katrina is much greater than the temporary shut down of Bourbon St., but to me it's a symbol of the darkness and loneliness many of Katrina's victims suffered.