Ready for today's Beat 360°?
Everyday we post a picture – and you provide the caption and our staff will join in too.
Check back later to see if you are our favorite!
Here is 'Beat 360°' pic of the day:
Presumptive Republican presidential nominee Sen. John McCain reacts as a supporter grasps his hand a bit aggressively at the end of a campaign rally where he introduced his vice presidential running mate, Alaska Gov. Sarah Palin, in Dayton, Ohio., Friday.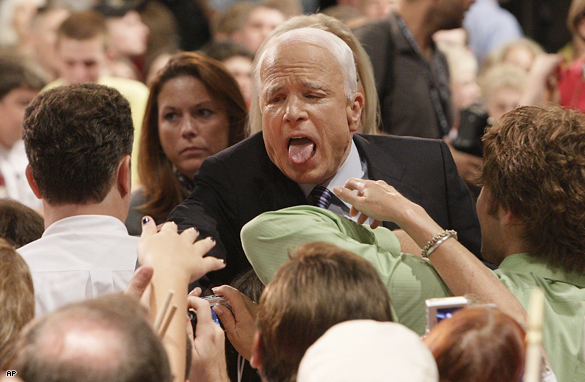 Have fun with it. We're looking forward to your captions!
Make sure to include your name, city, state (or country) so we can post your comment.
________________________________________________

But wait!… There's more!
When you win 'Beat 360°' not only do you get on-air prime-time name recognition (complete with bragging rights over all your friends, family, and jealous competitors), but you get a "I Won the Beat 360° Challenge" T-shirt!
Good luck to all!
Update: Today's winner is San from Miami, Florida who wrote:
I should have done the fist bump.