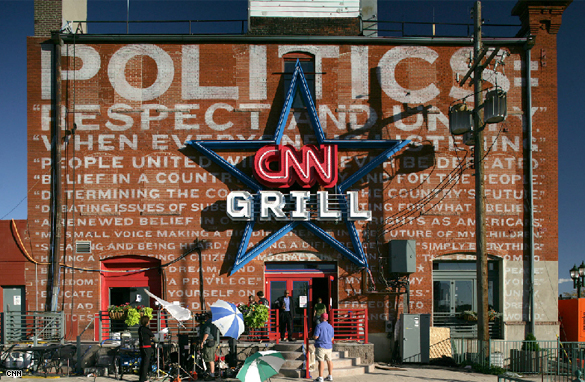 Kay Jones
AC360° Editorial Producer
The CNN Grill is up and running, and rumor has it that this is the place to be after the speeches! Already, Gayle King, Oprah Winfrey's best friend and editor-at-large for O, has been spotted in the Grill as well as frequent 360 guest, TIME's Mark Halperin. I need to ask him later how his burger was.
CNN has taken over this Denver restaurant normally called "Brooklyn's," flown in star chef Michael Romano, of Union Square Café in New York, to cook up a special menu, and turned it into the coolest restaurant, hang-out and studio. Not only can we grab some food with Washington's biggest power players (Rep. Barney Frank told me earlier that he was stopping by tonight), but I wouldn't be surprised if Tim Daly from ABC's Private Practice stopped by later today to grab some dinner and a CNN Brew, which is specially made this week for us by Breckenridge Brewery.
For those of us who won't be able to be inside the Pepsi Center for the speeches, we will be able to watch it all on the numerous TVs while chowing down on Romano's yummy specialties. I already have a favorite, the barbeque potato chips. Reports to come later on Anderson's faves. 🙂
The Grill is also home to CNN's main operations, and if you have watched some of our coverage today, you have seen the inside during some of the guest interviews and reporter's live shots. Most of us are upstairs pecking away at our computers as we try to report stories, but we are really excited to see what tonight brings. It should be interesting to see the crowd's reactions to the speeches tonight. I'll be sure to send in a report later on and let you know who stopped by.
That's all from Grill….