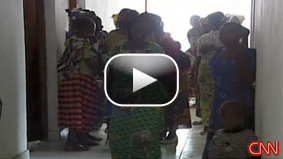 Watch Anderson's 2006 report from the Democratic Republic of Congo on the sexual abuse of women and young children.
Todd Pitman
Associated Press Writer
Imagine living with a 50 percent chance of being enslaved or threatened with death by an armed group. One-in-three odds of being tortured or wounded. A 12 percent chance of being sexually assaulted multiple times.
In some of the roughest parts of eastern Congo, such a life doesn't take much imagination.
These numbers are real for civilians in the country's three worst war-battered provinces, according to a new report based on rare polling data carried out by an international human rights group and the research centers of two prominent American universities.
Titled "Living With Fear," the report, released Tuesday, offers hard evidence on what many people in Congo already know: two years after the massive Central African nation held its first free elections in half a century, life is as dangerous as ever for many in the east despite the presence of one of the largest U.N. peacekeeping forces in the world.