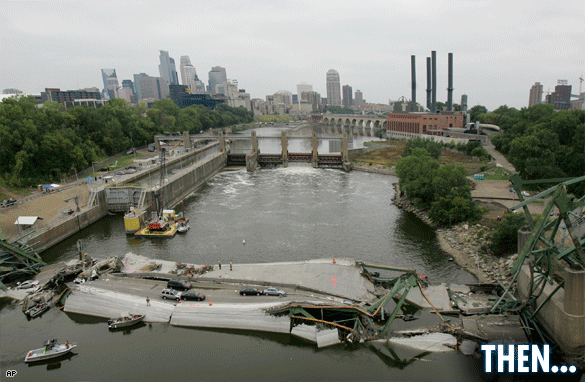 David M. Reisner
AC360° Digital Producer
One year ago today the nation saw one of the worst bridge collapses in a generation.
The Interstate 35W bridge collapse killed 13 people and injured more than 100...
Just this week, the National Transportation Safety Board released new evidence in the collapse investigation. One of its findings revealed that a plate connecting the support beams under the bridge had fractured along a section that was corroded. This was a concern that state officials had in fact realized... 15 years ago... but did not see as 'critical' to repair.
The board did not draw any conclusions about what exactly caused last summer's collapse... But as people plan memorials today for the victims, where are we one year later in Minneapolis? Today a skeleton of the new bridge spans the river where the old one once stood… You can see the progress that has been made in one year in these 'Then & Now" photos I put together.
But where are we one year later in America? Days after the collapse calls came from every town, city, and state official for 'immediate repairs' to other bridges… and still, two out of three of the busiest bridges in the United States. ... with known problems… have had no work done beyond regular maintenance …
Program Note: CNN's Campbell Brown investigates the nation's crumbling infrastructure in a special report, "Roads to Ruin: Why America is Falling Apart." Special guests include California Gov. Arnold Schwarzenegger, New York Mayor Michael Bloomberg and Pennsylvania Gov. Ed Rendell. Friday, 8 p.m. ET