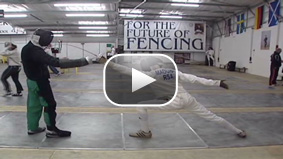 In the world of fencing, Sello Maduna is South Africa's first black Olympic fencer. CNN 's Robyn Curnow reports.
Robyn Curnow
CNN Correspondent
In the swashbuckling world of fencing, Sello Maduna is ready for some serious swordplay.
He's softly spoken and slightly built, but South Africa's first black Olympic fencer likes to talk tough. "You don't want to be my opponent. I am mean, dangerous and you don't want to get in my way," he says.
It's this attitude that helped the 21-year-old old to qualify for Beijing and break racial stereotypes along the way. But his Olympic coach, Gennady Tyschler, a Russian living in South Africa, says that Sello is "very dedicated. He is a fighter; you can see he is a fighter."
Sello Maduna's road to Beijing started in Mamelodi, which is a dusty, poor and crime-ridden township outside Pretoria, where he lives with his mother and grandmother in a small house.
Unemployment is rife here, which is why Sello's friends earn what little money they can washing cars. Every day, between morning and evening training sessions, he hangs out with them at their make-shift car wash a few blocks from his house.
It from these young "homeboys," as Sello calls his friends, that he says he got a lot of the emotional support needed to become an Olympian. While they shine hubcaps and soap down dirty car bonnets, Sello and his friends talk and talk and talk. With their ragged T-shirts and dirty shoes, they are an unlikely band of sports psychologists.
"I am his encouragement," Elias Magaguna says. "I don't have funds. He is looking for sponsor, for his swords and suits. But mentally and spiritually I am there for him."
Back at his house, sitting on the outside steps of his small room, Sello proudly displays his medal collection from regional and national competitions. Gazing at the colorful array of medals, Sello says the first time he saw people fencing — when he was in primary school — "I thought it was something silly. And why would they wear white clothes and play around with swords?'