Program Note: CNN's Campbell Brown investigates the nation's crumbling infrastructure in a special report, "Roads to Ruin: Why America is Falling Apart." Special guests include California Gov. Arnold Schwarzenegger, New York Mayor Michael Bloomberg and Pennsylvania Gov. Ed Rendell. Friday, 8 p.m. ET
[cnn-photo-caption image=http://i2.cdn.turner.com/cnn/2008/images/08/01/art.vert.hospital.jpg caption="Mercedes Gorden in the hospital. She has had nine surgeries since the bridge collapse last year. " width=292 height=320]
Randi Kaye
AC360° Correspondent
When I came to Minneapolis a year ago to report on the collapse off the Interstate 35W bridge, it was still laying in the Mississippi River. Huge chunks of steel and concrete lay twisted in the water. The cause was found to be a design flaw. That bridge had been built in 1967.
Today, it is a different story. The new bridge spanning the Mississippi is nearly done, two months ahead of schedule. It is a concrete bridge that cost about $250 million to build. If it is done by September 15th, the contractor will get a bonus of $27 million. That's the good news. The bad news is that many of the victims from that horrible day are still recovering. More than 145 people were injured when the bridge buckled, and 13 were killed. Some of the bodies weren't found for weeks. Some of the survivors are still dealing with post traumatic stress disorder. They still have nightmares about falling off a bridge.
I spent some time yesterday with one survivor. Her name is Mercedes Gorden. She has had nine surgeries since the bridge collapse.

Her car plunged 60 feet nose first into the bridge support on the river bank. It took rescuers an hour to get her out. She had too many shattered bones to count and a fractured spine. She was in a back brace for months and is now an inch shorter than she used to be. She still walks with a limp. We walked over to the new bridge together and she shared some her story. She told me she has to drive by the site every week on her way to physical therapy. She's angry more money wasn't used to make sure this bridge was safe. It had been inspected just three months before its collapse, and the state's Department of Transportation decided to keep inspecting it instead of fixing some off the flaws.
Mercedes says, "I say how did we get money for stadiums? How did we get money for all these new stadiums we're building? There are a ton of projects, how did we get money for that? What's more important baseball or safe traveling? Should we all be afraid every time we cross a bridge now? Should I be thinking I need to open a window in case I fall off a bridge? Is that the place that we've come to in America? Is that what it's come to?".
Today, Mercedes takes medication for anxiety and depression. She no longer dances like she used to and is looking to buy a one story house because she doesn't negotiate steps very well. But in all honesty, Mercedes is one of the lucky ones. Even with all the pain and the scars, she survived a day that so many others did not. The state compensated victims with nearly $37 million dollars that they will share, but that doesn't help the emotional scars. Mercedes isn't going to let her fears stop her, though. She hopes to be one of the first people to drive over the new bridge. She wants to "get back on the horse" she says and face her fears from that day as soon as she can. She may have that chance come September, when the new bridge is expected to be finished.
Mercedes shared this picture of what remains the car she was in when the bridge collapsed.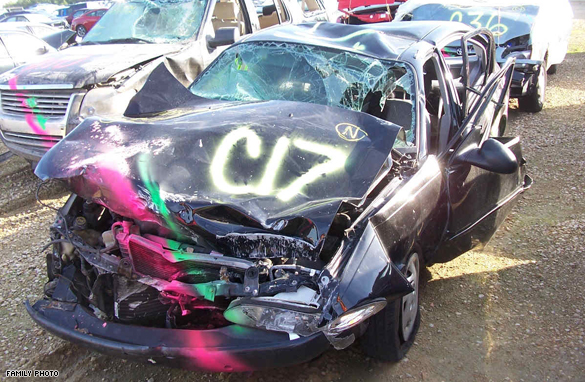 Mercedes Gordon sent us this picture of her car, after the bridge collapsed.