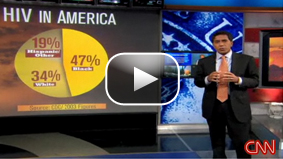 Watch: A new report says blacks are eight times more likely than whites to be HIV infected. CNN's Dr. Sanjay Gupta reports.
By Dr. Sanjay Gupta | Bio
CNN Chief Medical Correspondent
I have logged hundreds of thousands of miles, looking at the burden of AIDS around the world. I have been with the Partners in Health teams in Rwanda and the Clinton Foundation in Kenya. I have seen the work being done in Haiti, to name a few. Today, I would like to draw some comparison with what is happening right here at home.
Yesterday the Black AIDS Institute reported that if African-Americans with HIV/AIDS were their own country, they would make up more HIV/AIDS cases than seven of the countries currently receiving emergency funding for… AIDS. Think about that. There are almost 600,000 African-Americans living with HIV, and there are still 30,000 newly infected cases every year. As things stand now, AIDS remains the leading cause of death among African-American women between the ages of 25 and 34, and the second-leading cause of death among African-American men between 35 and 44 years of age.
As Jesse Milan, board chair of the institute, said, "When the world wasn't looking, the AIDS epidemic refused to go away." AIDS has always been a disparate African-American problem. Even at the beginning of this epidemic in the United States, when there were only a few thousand cases, more than a quarter of them were among African-Americans.