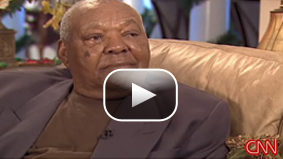 Watch Samuel Snow, a former imprisoned U.S. Army officer who received $725 after an unfair trial. CNN's David Mattingly interviewed Mr. Snow last year. Here is his report.
Chuck Hadad
AC360° Producer
Samuel Snow was one of two surviving World War Two veterans of one of the biggest military trials of the war. He had been wrongly convicted and imprisoned for a crime that over sixty years later, he said he didn't commit. When I met him late last year, the Army had recently overturned his conviction and awarded him the wages he'd lost while behind bars for 15 months: $725.
At the time, our story focused on the rather small sum awarded Snow that didn't factor in interest or inflation, not to mention the myriad of benefits denied to him for receiving a dishonorable discharge like those provided by the GI Bill.
Snow was one of 28 black soldiers convicted of rioting one night at Seattle's Fort Lawton that left an Italian POW hanged to death. Two of the 28 were also convicted of man-slaughter and sentenced to 15 years. Last October, the Army determined they didn't get a fair trial and over-turned all convictions and sent Samuel his check.
[cnn-photo-caption image=http://i.l.cnn.net/cnn/2007/US/12/12/soldier.back.pay/art.snow.1944.nara.jpg caption="As an Army private in 1944, Snow was convicted of rioting and sent to prison for 15 months. "]
I went to interview Snow at his son's home in Leesburg, Florida with CNN correspondent David Mattingly. We found Snow to be proud of the life he made for himself despite the handicap of being labeled a convicted criminal in the segregated South. His son Ray confided to us that although he wouldn't admit it, the conviction hung heavy over his father his entire life. Samuel was 83 at the time and in poor health.
The Army told us that their hands were tied by law and that it wasn't in military regulations to factor in any compensation beyond lost wages. Since our story first aired, there was a bill working its way through Congress that would have paved the way to award Samuel Snow a larger sum. David Mattingly and I would keep tabs with all of our contacts involved with the story in the hopes that one day, we could report that Snow had been given another check but this time not be insulted by the dollar amount.
This past weekend, Snow flew to Seattle with his family to attend a ceremony on the grounds where Fort Lawton once stood to be honored by the Army for wrongs they were still trying to right. Unfortunately the night before the ceremony he was admitted to the hospital for heart problems. On Saturday, his son attended in his place and heard the words his father longed to hear since 1944, "The Army is genuinely sorry," said Ronald James, assistant secretary of the Army for manpower and reserve affairs, according to the Associated Press.
[cnn-photo-caption image=http://i.l.cnn.net/cnn/2007/US/12/12/soldier.back.pay/art.snow.now.cnn.jpg caption="Samuel Snow, 83, wanted medical benefits and retirement pay from the Army since his conviction was overturned"]
I was aware of the tribute going on in Seattle and as I had been since first meeting Samuel in December, was still tracking the progress of the bill in Congress. On Sunday, I received an email from the office of the Seattle Congressman supporting that bill that felt like a punch in the stomach. It announced that at 12:48 that morning, Samuel had died.
It felt like a tragedy for him never to have gotten the money he felt he was owed for his wrongful conviction so many years ago but as I continued reading the email, I was heartened to discover that Samuel was awarded in another way. The Army officially changed his status from dishonorable discharge to honorable and on Saturday night, while at his hospital bed, his son read to him his honorable discharge plaque and Samuel smiled broadly in the knowledge that his name had finally been cleared. He died hours later with his son at his side. Ray Snow said, "My dad has been standing in formation all these years waiting to have his name cleared. With the Army's honorable discharge he was at ease. He now has his discharge papers and he went home."