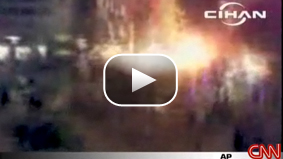 Video taken with a cell phone just as one of the explosions went off in a packed residential street in Istanbul.
The death toll from two weekend explosions in Turkey rose to 17 Monday after a wounded person died, the state news agency said. The blasts Sunday injured at least 154 others, the Anadolu news agency reported. Among the dead was a three-year-old child, it said.
Istanbul Gov. Muammer Guler called the blasts "an act of terror," and said the devices were placed 15 meters (49 feet) from each other. The first was a stun grenade that was detonated to draw attention before the second blast went off, he said. One bomb had been placed in a trash can.
Guler said police had launched an investigation into who is responsible for the blasts. No claim of responsibility had been issued late Sunday.