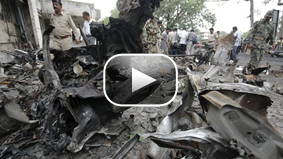 India suffers a second day of deadly blasts... this time, there was a warning. CNN's Sara Sidner reports.
Anti-terror squads have carried out raids in the search for leads into the deadly synchronized bombings that killed at least 49 people in western India over the weekend, according to reports.
In India's financial capital Mumbai, police raided the home of an American citizen and seized a computer from which an e-mail claiming responsibility for the attack was believed to have been sent, said Mumbai police chief Hassan Gafoor, The Associated Press reported.
In Ahmadabad an underworld figure with apparent ties to a banned Muslim group was arrested and police were trying to determine if he had any connection to the attack, deputy police chief Ashish Bhatia told AP.
A wave of synchronized bombs hit the western Indian city of Ahmedabad Saturday, killing at least 49 people and wounding more than 114, police reported.
Seventeen low intensity blasts went off within a span of 70 minutes Saturday night, all within a 6-mile (10-km) radius.
By 4:15 p.m. Sunday (6:45 a.m. ET), the death toll had climbed to 49. The official number of wounded was 114, according to Ahmedabad police, but Raghela said the number of injuries surpassed 200...