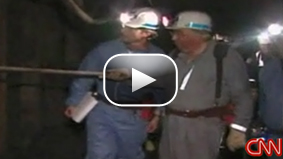 Watch Gary Tuchman go deep inside Utah's Crandall Canyon Mine, last year, where the six workers were trapped, and his interview with owner, Bob Murray.
Gary Tuchman
AC360° Correspondent
A few days after six of his coal miners were trapped in the Crandall Canyon mine, the owner of the Utah mine Bob Murray, allowed several journalists, including me, to travel deep into the mine to watch the feverish attempts to rescue the men. It is believed to be the first time journalists were ever allowed in a coal mine during such a rescue attempt.
While we were down there, we heard a deafening noise and the mine started to shake. Everyone I looked at, journalists and rescuers, seemed to freeze for a few seconds. I thought the mine was about to collapse.

The only person who looked relatively calm to me was Bob Murray. The first thing Murray said to me was "it was another earthquake." If anything, Murray was consistent.
After the horrifying accident happened, Murray expressed confidence his men would be found and then exclaimed matter of factly that the collapse occurred because of an earthquake. There was skepticism about his claim but he stuck with it.
Ten days after the collapse, and just a few days after I was in it, the mine collapsed again. Three of the rescuers were killed. One of those rescuers was a man I met when I was in the mine. The search for the other six men was suspended. And we never heard Bob Murray utter his comments again about an earthquake causing the collapse.
And now, it's official. The U.S. government has announced that it has fined Bob Murray's company, Genwal Resources, 1.34 million dollars "for violations that directly contributed to the deaths of six miners last year."
In addition, his company was fined 300 thousand dollars for other violations, and a mining consultant that worked on Crandall Canyon was fined 220 thousand dollars. It is the highest penalty ever for coal safety violations. Bob Murray had claimed an earthquake caused the collapse.
But the government says the collapse caused an earthquake. The government's top mine safety official says the mine's "pillars failed under excessive load and ejected coal very violently."
Bob Murray has turned down CNN's recent interview attempts. So I don't know if he still believes an earthquake caused the collapse. Or, for that matter if he was making that claim because he truly did believe it, was trying to limit his liability, or both. But the government has thrown the book at him. To lose nine men and that much money must be a wrenching cross to bear.