Program Note: In the next installment of CNN's Black in America series, Soledad O'Brien examines the successes, struggles and complex issues faced by black men, women and families, 40 years after the death of the Dr. Martin Luther King Jr. Watch encore presentation Saturday & Sunday, 8 p.m. ET

We devote several days on the blog to smart insight and commentary related to the special.
_____________________________________________________
[cnn-photo-caption image=http://i2.cdn.turner.com/cnn/2008/images/07/23/art.bia.martha.jpg caption="Martha Rand Hix and Rubystein McGhee "]
Editor's note: Martha Rand Hix is the great, great grandchild of William Harrison Rand, who had children with his white wife and children with his black mistress in the 1800s. She has a black cousin named Rubystein McGhee, whom she met at a family reunion in Lodi, Texas.
Martha Rand Hix
The truth of the matter is, the best part of genealogy has always been the cousins.
When Rubystein McGhee said we're kin, I already knew there were black Rands from East Texas. What I didn't know was exactly how Rubystein's Harold Rand related to my great-great-grandfather, William Harrison "Hal" Rand, 1822-1909.
Hal brought the Rand family to Cass and Marion counties of Texas in the early 1850s, from Alabama via Mississippi. What I hadn't known? That Hal's mixed-race love, Ann Mullins Rand, later Ann Alsbrook, also brought the Rand family to East Texas. Hal, aka Harold, had two families, all riding west in the same wagon.
Once I realized Rubystein's Harold Rand was also my Hal Rand, I couldn't stop the thrill. This lovely lady is my third cousin! In genealogy, that's kissin' cousins.
One of the first things she did was invite the Hixes to the Rand reunion in Shreveport, Louisiana. What a good excuse to meet this interesting cousin, to meet even more of the Rands, and to dress up.
This, you see, was no bring-a-dish family reunion. There were fashion shows and costume parties; even the kids participated in events, all in a nice hotel. A scholarship presentation highlighted the activities.
Trouble was, my husband and I had a scheduling conflict, and it was the same for the next reunion, Atlanta 2007. The part I most missed? Hugging Cousin Rubystein in person.
By 2007, I had grown quite fond of my retired-educator, textbook-author cousin. We often exchanged e-mails, and sometimes talked on the telephone. Then folks at CNN asked if I had an interest in meeting her. If they arranged for the two of us to meet at the cemetery, the last resting place of our great-great-grandfather, would I show up?
Does a duck quack!
My husband, granddaughter, and I sailed off to East Texas. The moment Cousin Rubystein and I grabbed each other for a hug, it was like I'd known her forever. The soft yet durable sash of kinship and friendship tightened around us. This, I knew, was truly meant to be.
This did not happen at the cemetery, though. We'd been told to arrive at Cousin Thelma's home. There, a large group of people stood waiting. I swallowed. Back in Kerrville, Soledad O'Brien mentioned that some people might not wish to meet us, and I couldn't help but wonder if we were being set up for a TV moment.
It wasn't that way at all.
These cousins opened their arms to my bunch of newbie Rands. From young Willie Sheppard who got interested in genealogy in grade school, to several daughters of the late Lonnie and Johnie Rand, to Dick Rand's granddaughter (the aforesaid, lovely Thelma)—and to Darlene and John, and Adella and Tracy, not to mention Cousin Rubystein's daughter, Audrey—they each greeted my family and I as COUSINS, smiling and warm.
Like I've always said, cousins are the best part of genealogy. It couldn't be truer than with the Rands. Thank you, Cousin Rubystein, for getting in touch, and for giving me this gift of wonderful family.
_____________________________________
Below are some photos from when Martha met Rubystein: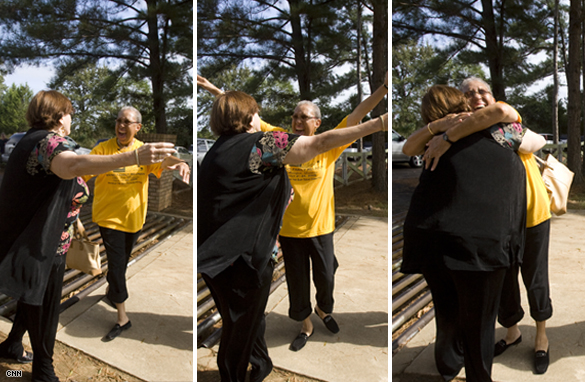 Cousins meeting for the first time
_______________________________________________________________________________________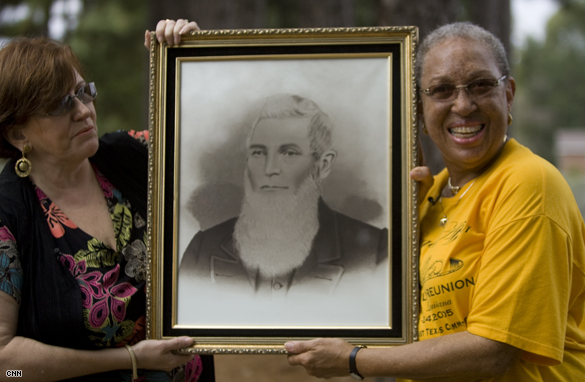 Martha Rand Hix and Rubystein McGhee hold up portrait of their great, great grandfather, William Harrison Rand. Rand had children with his white wife and children with his black mistress in the 1800s.
_______________________________________________________________________________________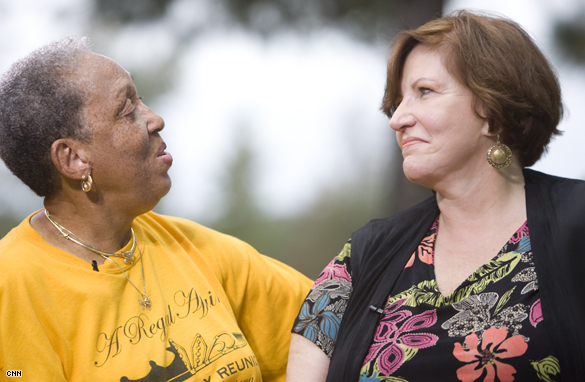 Rubystein McGhee and Martha Rand Hix
_______________________________________________________________________________________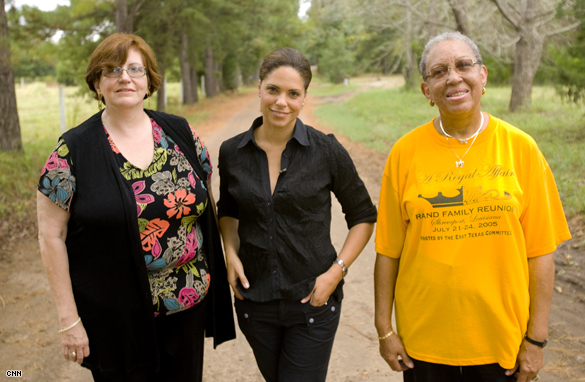 Soledad O'Brien with Martha and Rubystein
_______________________________________________________________________________________

For more on the Rand family tree: