Program Note: In the next installment of CNN's Black in America series, Soledad O'Brien examines the successes, struggles and complex issues faced by black men, women and families, 40 years after the death of the Dr. Martin Luther King Jr. Watch encore presentation Saturday & Sunday, 8 p.m. ET

We devote several days on the blog to smart insight and commentary related to the special.
_____________________________________________________
[cnn-photo-caption image=http://i2.cdn.turner.com/cnn/2008/images/07/22/art.doorofnoreturn.jpg]
Roland S. Martin
CNN Political Analyst, AC360° Contributor
It is truly stunning to look out into the Atlantic Ocean and see the beauty of the beach and waves along the coastline of this Ghanian fishing town, and then listening to them crash onto the shores below the Elmina Slave Castle.
But if you close your eyes, you can also hear the banging of chains and the rustling of the feet of slaves – bunched in groups of 400 women and 600 men – as they are held in dark, small, cramped and poorly ventilated spaces, not knowing whether they will survive this horrible ordeal and return to their tribes in this West African nation.
It's hard to fathom how such unbelievable brutality, and breathtaking beauty, could co-exist.
After venturing out from Accra early this morning on a three-hour ride, we arrived in Elmina to tour the Elmina Slave Castle, initially built by the Portugese. Our knowledgeable guide, Phillip, provided riveting, and often sad, testimony to the horrors of the Trans-Atlantic Slave Trade, showing us the places where women were separated from men; a spot where a woman who refused to be raped by her captors was held in a ball and chain with no food until she submitted; and the holding cell where male slaves were sent to be broken of their will.
And of course, nothing signifies the finality of the slaves the "Door of No Return," the sliver in a stone wall or an actual door where African slaves had to crouch low to the ground as they were ushered through one by one, checked off on a sheet of paper like cattle, never to see the Motherland again.
As a descendant of Africans – I've traced my DNA on my mom's side to individuals in Senegal, Guinea-Bissau and Sierra Leone – it was difficult to walk through these dark and dank dungeons, imagining hundreds of men and women packed in these rooms, forced to urinate in corners of a room; having to lay beside a weak or dead comrade; forced to endure unspeakable brutality.
This was no video or history book lesson, which allows us to learn in theory, all in the relative comfort of a classroom or home. Standing here, I could still smell the stench that is locked in the rocks, and stand on the same spot where men, women and children died.
Did I get emotional and weep? No. I spent most of the time taking pictures and shooting video, which always allows me to remove myself emotionally from any situation. My focus was to record as much as I can so I can take the images back and show my nine nieces, four nephews, family and friends, so they could witness via my trip the reality of the most devious and diabolical act committed against mankind.
But what I witnessed with my own eyes will not be forgotten as long as I remain on this earth.
Phillip said estimates suggest that a total of 60 million African came through such castles, with 40 million dying in the castles or on ships, their lifeless bodies thrown into the sea without the dignity of a proper burial.
One of the more stunning things we witness at Elmina and Cape Coast Castle was the fact that churches were built right above the slave dungeons, allowing the Portugese, British and Dutch – it all depended on who had taken over the castle at that time – to praise and worship Jesus Christ. The Portugese started off with the mission introducing Christ to the Ghanaians. Instead, all they really got was evil incarnate.
People of every race, creed, religion and sex should not assign these world landmarks to just old dilapidated buildings that don't require our time or attention. This is OUR history – not just African American or African, but Caribbean, European and Asian.
It must be recognized that the world benefited from the horrible slave trade. African who sold their own received gun powder, liquor and other bartered items; nations like the United States were built into the superpower it is today; fortunes were made all over in European capitals; and its after effects – colonialism and Jim Crow in Africa and the United States, respectively – continued what was started more than 600 years ago.
I'll end this with a statement inscribed in stone on the walls of both castles, which aptly describes what we all should do: "In everlasting memory of the anguish of our ancestors. May those who died rest in peace. May those who return find their roots. May humanity never again perpetrate such injustice against humanity.
"We the living vow to uphold this."
_____________________________________
Below are some photos from Roland Martin's trip: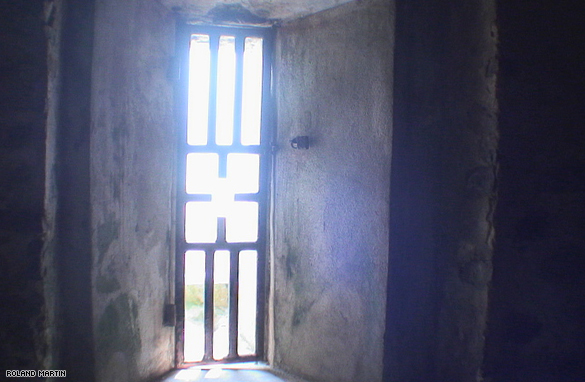 The "Door of No Return".
_______________________________________________________________________________________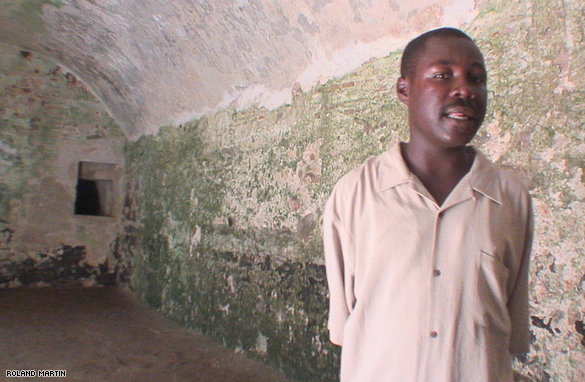 Roland's guide, Phillip, inside one of the male dungeons at the Elmina Castle.
_______________________________________________________________________________________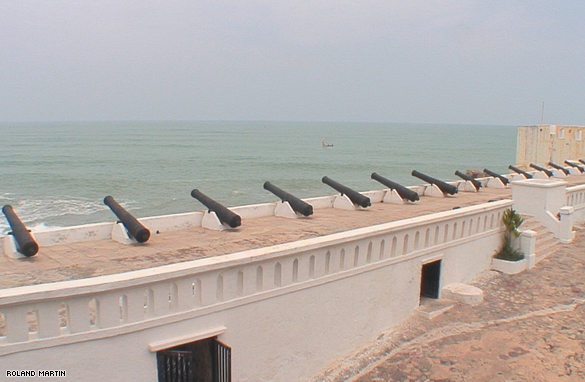 Canons point out to the Atlantic Ocean from the Cape Coast Castle
_______________________________________________________________________________________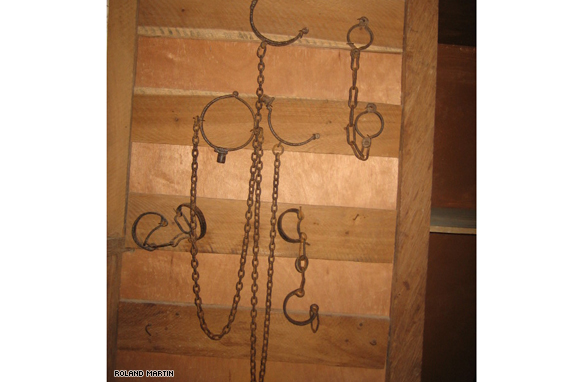 Actual chains used on slaves as presented in the Cape Coast Castle Museum