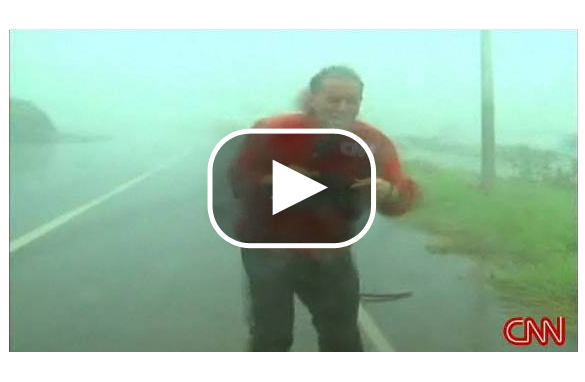 Gary Tuchman struggles to stand as Hurricane Dolly ravages South Padre Island, Texas. Read his experience below.
______________________________________________________________________________
Gary Tuchman
AC360° Correspondent
Don't mess with Dolly
As I write this, much of South Padre Island, Texas is underwater. It looks very much like parts of Wisconsin, Iowa, and Missouri from a few weeks ago, but the way South Padre got to this point has been much more rapid fire...
Hurricane Dolly was not taken seriously by many people who live on this barrier island on the southernmost point of Texas. Not only was she still a tropical storm as she was getting close, but South Padre hadn't been directly hit by a hurricane since 1980. But this barrier island's luck has now changed. The rains and the tropical storm force winds began at around 6am central time and continued into the evening. But it peaked in early afternoon with gusts of over 100 miles per hour. Dolly then made landfall in South Padre Island.
It is impossible for us to ascertain the extent of the damage because so much of the town is flooded and we physically can't drive around. We can't even get back to our hotel because the road to the hotel is underwater. So my CNN crew and I are sitting in one of our satellite trucks in a forlorn parking lot. The truck is shaking from the wind but it weighs 26 thousand pounds, so we feel safe. But we feel sorry for the people of South Texas, who will undoubtedly be dealing with many of the same heartbreaking problems we just saw in the flooded upper Midwest.