Hey there 360° bloggers! It's time for 'Beat 360°!'
Everyday we post a picture – and you provide the caption. Our staff will get in on the action too.
Tune in every night at 10p ET to see if you are our favorite! Can you Beat 360°? It's been a while but Hillary Clinton is back.
President George W. Bush signs the New and Emerging Technologies 911 Improvement Act of 2008, in the Oval Office of the White House Today with Senator Ted Stevens (L), Senator Olympia Snowe (2nd L), unidentified (3rd L); Senator Hillary Rodham Clinton (4th L), Congressman John Shimkus (5th L), Congressman Bart Gordon (2nd R) and Congressman Chip Pickering (R). The law requires Internet Protocol (IP) telephony service providers to offer 911 services and create plans for a national IP-based emergency response network.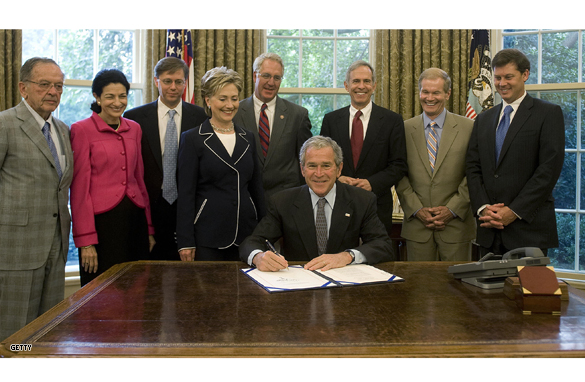 Have fun with it.
Make sure to include your name, city, state (or country) so we can post your comment.
________________________________________________

But wait!… There's more!
When you win 'Beat 360°' not only do you get on-air prime-time name recognition (complete with bragging rights over all your friends, family, and jealous competitors), but you get a "I Won the Beat 360° Challenge" T-shirt!
Good luck to all!
________________________________________________
UPDATE: Check out our Beat 360° Winners!