Jacqui Jeras
CNN Meteorologist and Weather Anchor
Here we go… the first hurricane to make landfall in the U.S. is just hours away. At the time I write this, it's still a Tropical storm with winds of 70 mph. It needs to hit 74 mph to call it a hurricane. What are a few miles per hour between friends?
Dolly has been intensifying all morning and will continue to do so… there's not much doubt it will be a hurricane later today, as there's little in the way to weaken the storm before landfall.
Check out the Sea Surface temperatures map here.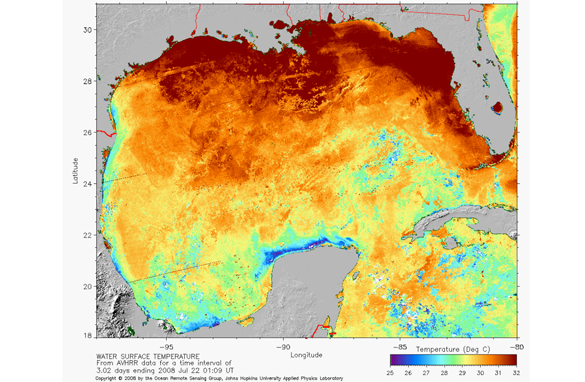 It shows the path of Dolly moving over warmer water of about 86 degrees on its way to the coast. That will keep it ramping up. Notice the blue/green sliver of cooler water right next to the coast. Not enough to weaken it, but maybe prevent a little intensification right before landfall.
While Dolly is no monster storm, it does pose some serious risks. Flooding has me most concerned. The forecast is calling for 4-8" of widespread rain in the path of the storm, and localized amounts could reach over a foot. Drop that down over less than 24hrs and rivers will rise and urban flooding will be severe. Most people in hurricanes die from the water. Many of them think it's a good idea to drive through it. It's just so not worth the risk!!!
About 2 million people live in the Rio Grande Valley and have been told to stay put unless they are located in a flood prone area. Other worries include storm surge (expected to be 4-6ft. above normal tide), wind damage, and tornadoes. The worst of all of this happens on the "dirty" side of the storm, or the right, front quadrant.
Weather computer models have been amazingly consistent bringing the storm in near the Texas/Mexico border. So, we have a high amount of confidence on WHERE it is going to hit. WHEN, poses a bigger question mark. The speed of the storm has been slowing as expected, but it's real tough to predict just how slow it goes. And it doesn't take a meteorologist to tell you that the time the storm hits land depends on how fast the storm moves!
My best thinking is sometime Wednesday after breakfast, but before lunch. I'm hopeful Dolly doesn't slow down too much for two reasons: 1. The slower it goes, the greater the risk of flooding. 2. That would make me wrong.
After Dolly, we may have a new storm to deal with. There is a tropical wave coming off the African coast as we speak. It could become a tropical depression or Tropical Storm Edouard in the next couple of days. The tropics are getting busy, and will continue to do so…. climatologically speaking, August is a busy hurricane month with the peak of the season in mid September.
It should go without saying that preparing is the key. Though it never ceases to amaze me when storm after storm you hear people say, "We didn't know it was coming." So get ready, my friends, buckle your seatbelt and pay attention. This season will likely feature more storms that average. I'll be here along with the rest of the CNN Weather team with my power bars and Starbucks to help you get through it!