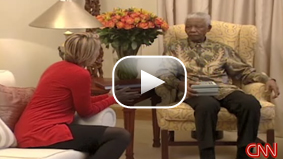 CNN's Robyn Curnow had a chance to sit down with Nelson Mandela and his family as they celebrated his 90th birthday.
Robyn Curnow | BIO
CNN Correspondent
Qunu, South Africa
As Nelson Mandela's grandchildren sang a birthday song for him, little did I know that soon afterwards I'd been surrounded by about 40 young topless Xhosa maidens, wearing grass skirts, and singing traditional songs as they wandered around my live shot position.
The girls, who are from the local village community, were practicing for a show they are going to perform for Nelson Mandela and his family and friends at a 90th birthday party on Saturday, here in his family compound in Qunu in South Africa's Eastern Cape region.
No matter how tight your deadline – it's very distracting having about 40 pairs of breasts dancing around you as you try to write a story and prepare to go live on CNN International.
The afternoon got more colorful when – as a vegetarian - it was slightly disconcerting when a trailer of sheep, bleeding pathetically, readied for slaughter and waiting to be served for lunch at Mandela's birthday party on Saturday. They were parked next to us as we frantically tried to edit our interview with Nelson Mandela.
But the show goes on – breasts and sheep aside. We made the deadline for our story and felt proud to have been part of such a wonderful and rare occasion. Nelson Mandela hasn't given an interview to the press since 2004 when he famously commented that 'he's retiring from retirement.'
There were only three media organizations represented, local South African television and the Assocaited Press, and CNN. Despite having met Mandela before and covered his presidency in the late 1990's, I was slightly nervous about meeting him – worried I'd forget my questions or trip over the camera cables.
But as usual, in true Mandela style, he made us feel comfortable by jokingly asking 'what day is this?' Of course, it's his 90th birthday – something even he concedes is a milestone. He told me 'I am happy that I am alive.'
But for me, the most interesting part of the interview was when Mandela – who spent 27 years in prison and many more years devoted to the anti-apartheid struggle – admitted to me he didn't regret giving up his family life for to fight for democracy because it 'pleased my soul.'
Now that's someone who knows his life's journey was worth every sacrifice.
_____________________________________
Here are some snapshots from the interview: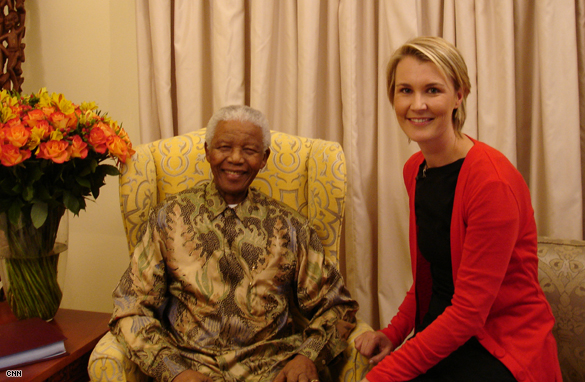 Robyn Curnow and Nelson Mandela after the interview...
_______________________________________________________________________________________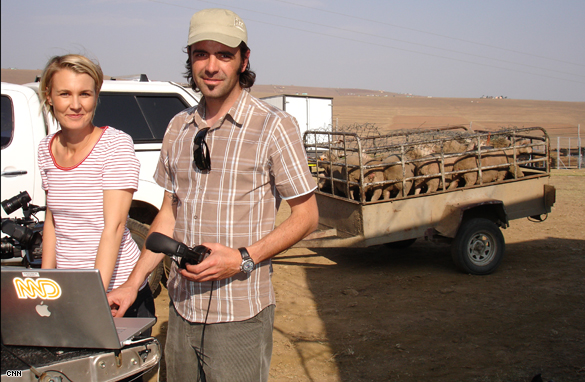 Correspondent Robyn Curnow and cameraman Barnaby Mitchell editing their interview with Nelson Mandela on the back of pickup truck, in Mandela's farm compound. The sheep behind them in the trailer will be served for lunch on Sunday at Mandela's birthday.....
_______________________________________________________________________________________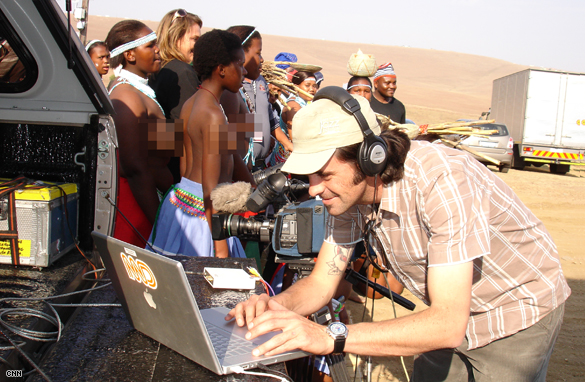 Cameraman Barnaby Mitchell with the dancing maidens in the background as he edits CNN's rare interview with Nelson Mandela...
_______________________________________________________________________________________