Hey there 360° bloggers! It's time for 'Beat 360°!'
Everyday we post a picture – and you provide the caption. Our staff will get in on the action too. Today's contest is a web only.
Tune in every night at 10p ET to see if you are our favorite! Can you Beat 360°?
A dog disguised as policeman makes a ride on a motorroller during the 'Rose Monday' parade February 19, 2007 in Cologne, Germany. Hundreds of thousands people flood the streets of Cologne for the traditional 'Rose Monday' procession.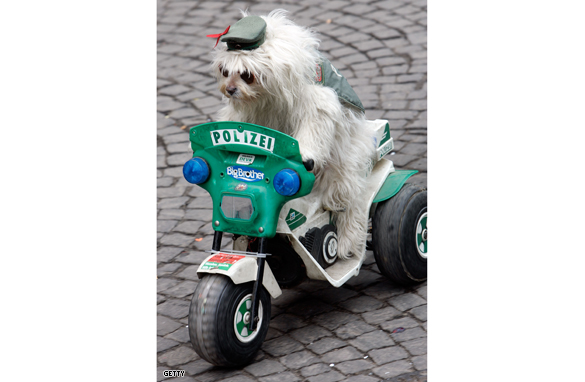 Have fun with it.
Make sure to include your name, city, state (or country) so we can post your comment.
________________________________________________

But wait!… There's more!
When you win 'Beat 360°' not only do you get on-air prime-time name recognition (complete with bragging rights over all your friends, family, and jealous competitors), but you get a "I Won the Beat 360° Challenge" T-shirt!
Good luck to all!
UPDATE: Congratulations to the viewer winner, Dee with her caption, "Big Brother is watching your ankles."