Introducing the iReport Film Festival!
We want YOU to make a short film for iReport Film Festival: Campaign 2008!, an online festival of short films from the campaign trail.
Put your creativity to the test and give us a glimpse of what goes on behind the scenes whether you are organizing in your community or following the campaign… Learn more
________________________________________________________________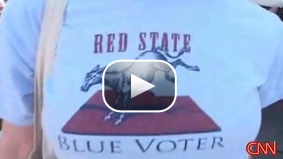 Here's a sample of what we're looking for in the iReport Film Festival from AC360° Associate Producer Jack Gray. This film isn't in the running.
Jack Gray
AC360° Associate Producer
Rural, heavily Mormon and across-the-board-conservative: Utah, as it was and ever shall be, right? Well, not quite, as it turns out.
Until last month I had never been to Utah. I had heard good things from my friends who ski but had never had a reason to travel there myself (I am a disaster on the slopes). But when I was assigned to produce a sample mini documentary on the election for the CNN iReport Film Festival I decided that Utah was the place to go.
My topic was to spend some time with Democrats in a heavily Republican state. To borrow from one of my idols, Jerry Seinfeld, Democrats in Utah inhabit a veritable political "bizarro world." And yes, the state is indeed rural, heavily Mormon, and conservative. But there is also a strong, albeit small, group of Democratic activists (including Mormons) working to advance the Democratic Party platform within Utah.
By the way, to be fair, I also traveled to San Francisco to hang out with Republicans in the cradle of liberal ideals but I fractured my arm before I could get the interviews I needed. Note to Tony Bennett: You like to sing about how you left your heart in San Francisco…well, I left part of my arm there – and I guarantee it hurt way more. I'm expecting a shout out at your next concert.