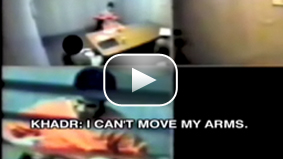 A 16-year-old Canadian prisoner at Guantanamo Bay is shown being interrogated in a video released by his attorney.
Kelli Arena
Justice Correspondent
We had never seen a tape of an interrogation from Guantanamo Bay before. This video was only being released because a judge forced the Canadian government's hand. The detainee was just 16 at the time-now 21-the youngest being held at Gitmo. What would it show?? It turns out, it was more subdued than shocking.
The detainee, Omar Khadr is visibly distraught at times. "Oh Mommy," he cries in despair when he is alone in the room, watched only by hidden cameras.
Hard to watch, but not what you might expect. No torture shown, no abuse. He's even offered a break and a hamburger and chips. He tells his interrogator that no one cares about him, shows him his battle wounds, and reminds the interrogator that he'd asked for medical care.
But there are none of the harsh interrogation techniques we've heard about. It doesn't strike me as any different from an interrogation in a police station, whether it's in Ottawa or Washington DC.
One former military lawyer said he's surprised the legal team released the video, calling it benign. But the ACLU published a press release calling the tape "disturbing." Khadr's lawyers are clearly hoping the sight of a child being interrogated will be enough to pressure the Canadian government to demand he be sent back to Canada.
The Canadian foreign affairs office said discussions regarding his repatriation "are premature and speculative."
The Pentagon's response wasn't much different: "We believe Khadr should be held accountable for his actions."
So, what exactly is Khadr being held for? He's charged with murdering a U.S. soldier in a firefight in Afghanistan. He's set to go before a military commission in October. Other Western countries have gotten their citizens out of Gitmo, but Canada has not officially asked for Khadr. Some speculate there may be a behind-the-scenes deal in the works.
We don't have any proof of that–but Canada's silence on this is deafening.