Introducing the iReport Film Festival!
We want YOU to make a short film for iReport Film Festival: Campaign 2008!, an online festival of short films from the campaign trail.
Put your creativity to the test and give us a glimpse of what goes on behind the scenes whether you are organizing in your community or following the campaign… Learn more
________________________________________________________________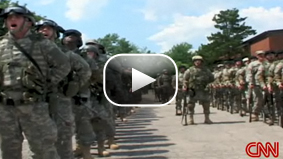 Here's a sample of what we're looking for in the iReport Film Festival from AC360° Producer Chuck Hadad . This film isn't in the running.
Chuck Hadad
AC360° Producer
It's 2pm on Saturday and I'm doing 60 on the Long Island Expressway. The sun is shining, people are heading to the beach but I'm so tired that no matter how hard I try, my eyes will just not stay open. Although I know I have many hours to go before my final destination, I'm afraid I'll have an accident so I pull off an exit, find a quiet suburban street to park the car, roll down the windows and immediately pass out for two, fitful hours of sleep.
As I descend into slumber, I think, "How did I get here?" but in reality, I have no one to blame but myself. Well, myself, and CNN.

A month before my nap on Long Island, my bosses on 360 presented me with a challenge that was as vast as it was exciting. "We want you to do a short documentary about the election. It can be anything you want as long as we approve the idea so think on it and come back to us." The film would be a model for an upcoming iReport film festival.
I was thrilled and the wheels immediately started spinning. A week later, I came back to them with the following pitch, word for word:
"Although I'm not a veteran political pundit, I've voted in 3 elections and been a part of covering as many in my career here at CNN. I grew up in a family highly attuned to politics which lead to our own lively round table discussions at dinner growing up (especially the last election when my Mom voted for Bush, my Dad for Kerry). I'm old enough to remember Reagan's reelection, the Iran-Contra scandal, the end of the Cold War, Bush 1, the recession, the surprise victory of the Governor from Arkansas, the triumphs, defeats and controversies of the entire Clinton presidency and everything in between.
With that knowledge both on the job and leading up to it, this Presidential election just seems bigger, the stakes higher, the difference between one man or the other massive and the emotion for the entire country at a fevered pitch. For lack of a better word, this election just feels more important than any one in my lifetime. While the candidates go into general election mode, they no doubt have their talking points on why they're the best to lead. But I'm not interested in their rhetoric which has plenty of platforms to get blasted around the world on a daily basis. I want to know what the country thinks. And I plan to find out driving from the east coast to the west and polling as many people in the process with one simple question: Why is this election so important?"
Pretty good right? Yeah, my bosses thought so too. They told me to go for it, with one major caveat. With the massive demands of our regular programming on 360, they could only give me one week out of the office to pull it off. To be fair, I was given the option of finding another project that would require less of a hectic schedule but I was committed. I had bold (and perhaps foolish) ambitions. In seeking out the voices of many individuals, I wanted to find some universal truth.
The documentary lead me to leaving work at midnight on a Friday and starting my first shoot with fisherman on Long Island at 5AM with no time to sleep in between. That's how I ended up almost killing myself on the Long Island Expressway and let me tell you, embarking on a massive adventure such as this is better done on a full night's sleep.
I crossed the entire country and talked to as many different types of people as I could: fisherman in New York, evangelicals in Pennsylvania, baseball fans in Tennessee, community leaders in Little Rock, conservative radio listeners in Oklahoma City to name a few. The responses I've gotten to my question have been shocking, inspiring and you better believe entertaining but one thing remains constant …virtually EVERYONE is invested in this election and for me, an electorate actually voting IS the most important thing about this election.