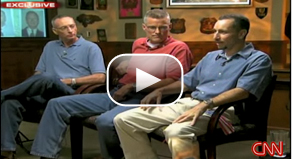 Freed after five years in FARC custody, 3 American hostages freed last wednesday reflect on their ordeal. Headline News anchor Robin Meade has this exclusive interview. Here's a preview:
Robin Meade
Morning Express Anchor, Headline News
I'm in the middle of a whirlwind of live shots and writing about the amazing men we just interviewed today.
You will not believe some of the incredible detail they give in our interview… about their despair, their concerns, the way they were able to get through this and what the reunions were like with their families.
Behind the scenes, I was told they could talk for no more than 60 minutes. That's a ton of time, right? Well at the 20-minute mark, they were still detailing their rescue, the looks on their faces, the plastic they were bound with before being told they were free and the reactions of the other hostages.
And I was thinking – "Oh my word… I'm going to run out of time before we ever get to the part about their reunions, captivity and concerns now."
But think about it… these are men who for five years had nothing to do but dwell on the tiniest of details and thoughts to help pass the time.
Before the interview started, they told me they visualized and fantasized about being free again. They would make lists of things they wanted to do when they got free and in general kept their minds busy latching on to the smallest of ideas for days, going over it again and again in their head to pass the time.
So no wonder they were able to tell with such detail their story.
I think you'll be moved by their mental sharpness considering what they've been through… and their compassion for each other and the people who are still hostages.
Editor's note: See Robin's interview with the former hostages on AC360° tonight at 10PM.  See Robin every weekday on Morning Express.