Someone likes to gloat....It's time for 'Beat 360°!'
Everyday we post a picture – and you provide the caption. Our staff will get in on the action too.
Tune in every night at 10p ET to see if you are our favorite! Can you Beat 360°?
Here is the 'Beat 360°' pic of the day:
Prince Harry gestures during a football match at the school for disabled children in Batha-Bathe near Maseru, Lesotho today. Harry and a group of 26 soldiers from the Household Cavalry Regiment are helping to rebuild a school in Lesotho. The project to rebuild the school is being supported by Prince Harry's charity, Sentebale, and by the Household Cavalry's own charity, the Burnaby Blue Foundation.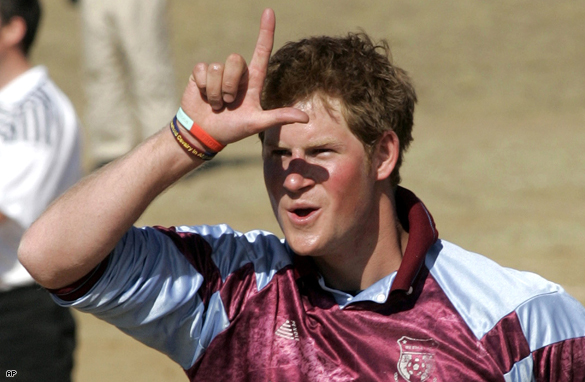 Have fun with it.
Make sure to include your name, city, state (or country) so we can post your comment.
________________________________________________

But wait!... There's more!
When you win 'Beat 360°' not only do you get on-air prime-time name recognition (complete with bragging rights over all your friends, family, and jealous competitors), but you get a "I Won the Beat 360° Challenge" T-shirt!
Good luck to all!
UPDATE: Check out our Beat 360° Winners!