[cnn-photo-caption image=http://i.cdn.turner.com/cnn/2008/images/06/20/art.obama.seal.jpg width=292 height=320]
Candy Crowley
Sr. Political Correspondent
Bloggees,
I know you can't quite see me. I am here – buried in paperwork above my eyeballs.
Please don't mention this to anyone, but it's mostly a backup of plane flight, hotel, taxi, meal, and car rental receipts for three months of expense reports not yet submitted. If they had time to read it, that sentence would send a CNN accountant running to the Xanax drawer but they are busy at the calculator figuring how to amortize the cost of a primary season that went to approximately 48 more states than they planned and lasted five months longer. Oh well.
So I must submit this all today – so Monday someone will submit theirs and they will forget to yell at me. I can't read the writing on the taxi receipts and they aren't dated and I dropped a pile of hotel bills in a puddle in Indiana so they are unreadable and I don't understand why I have to separate the hotel taxes from the room charge and whenever I do, the computer adds it up – and it doesn't match the hotel bill. HEY- I didn't study to be a CPA. Please send cheese for the whine.
Anywho, no deep thoughts. But I saw this picture of a wildly enthused Barack Obama at a meeting with governors and I had to share.
You are getting very very sleepy. When you wake up, you will imagine this man behind a podium with The Presidential Seal.
OMG blogees, this cracks me up. IT IS THE SIZE OF A FLYING SAUCER.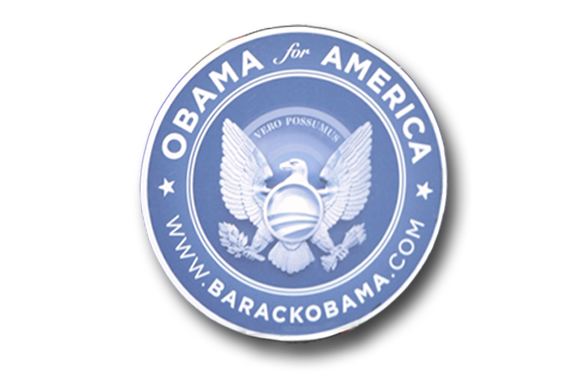 But the best, the very best part is the Latin phrase in the inner circle: Vero Possumus. Painfully I tell you that means "Yes We Can". I cannot swear to that because we didn't do campaign slogans in my Latin class. But the campaign says that's what it means and, honestly you can't make this up. (A quick internet check says the translation is "in truth to be able".)
I'm no image consultant, but I'm thinking this doesn't do much for the current mission to assure voters he is not an elitist. To be safe, he should not pack that thing for a trip to rural Pennsylvania.
The campaign tells us this is the first time they've used this seal…. …
Should we tell them?