David M. Reisner
AC360° Digital Producer
Hey everyone, I have some great news.
Starting Monday, when you win 'Beat 360°' not only do you get on-air prime-time name recognition (complete with bragging rights over all your friends, family, and jealous competitors), but you get a "I Won the Beat 360° Challenge" T-shirt!
First we re-do the website, now this?!?!?! (You can pick your jaw up off the floor now).
So how did this all come about you ask?
At first we thought, 'We'll send the nightly winner to Paris!' but no, who has the time for that…
Then we figured, 'Hey, we'll have them tag along with the Planet In Peril team!' But then we realized our insurance wouldn't cover you or a 'Monkeypox' outbreak...
But then it hit us… t-shirts! Everybody likes t-shirts!
Here's a look at ours: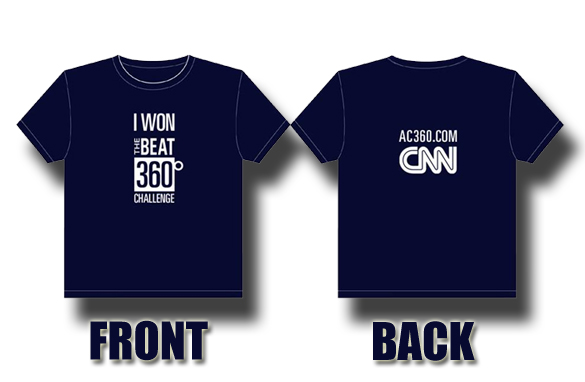 So get your best captions ready for Monday – head to the gym, train all weekend… this isn't a game! (oh wait, I guess it is)
For those of you who don't know (or suddenly care because you can win something)– let me re-cap what we do:
Every day AC360˚ posts a picture on the blog and asks you to provide the caption. The staff gets in on the action too... Which viewer will write the best caption and 'Beat 360˚?'
So we'll see you Monday – give it your best caption– and we hope to send you a t-shirt really soon!