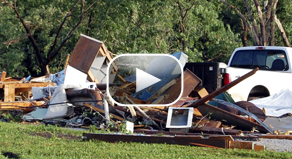 15-year-old Scout Rob Logsdon shares what it was like seeing and surviving the Little Sioux Scout Ranch tornado.
David M. Reisner
360° Digital Producer
Bloggers,
Wednesday's storm slammed into the Little Sioux Scout Ranch in Iowa. Four boys died in that tornado, and 48 people were injured.
I have to say as a former member of the Boy Scouts, it's really heartbreaking to see what happened. These were young boys who set out to help other people, work as team, and appreciate and preserve nature.
The Cub Scout ideals, something you learn before becoming a Boy Scout, are spelled out in three different pledges- that we would repeat at every meeting:

Cub Scout Promise:
I promise to do my best
To do my duty to God and my country,
To help other people, and
To obey the Law of the Pack.

Law of the Pack:
The Cub Scout follows Akela.
The Cub Scout helps the pack go.
The pack helps the Cub Scout grow.
The Cub Scout gives goodwill.

Cub Scout Motto:
"Do Your Best "
I really think it's important to know the names of these boys, now that you know what they set out to achieve:
Josh Fennen, 13
Sam Thomsen, 13
Ben Petrzilka, 14
Aaron Eilerts, 14.
The Boy Scout motto is 'Be Prepared' ...and that's just what these boys were. According to officials, the day before the tornado struck, the scouts at the camp had conducted tornado drills... And when tragedy struck, some scouts performed CPR and first-aid before other help arrived. These boys rallied together and held true to their creed...
My thoughts tonight are with those young boys lost, along with my admiration for the ideals they lived and upheld.
Take a moment to listen to 15-year old Boy Scout Rob Logsdon, who managed to rescue some of his fellow Boy Scouts, who were trapped underneath the rubble of a collapsed chimney.