Hey Bloggers!
It's time for 'Beat 360°!'
Everyday we post a picture – and you provide the caption. Our staff will get in on the action too.
Tune in every night at 10p ET to see if you are our favorite! Can you Beat 360°?
Here is the 'Beat 360°' pic of the day: Sen. John McCain on his campaign charter plane, leaving Baton Rouge, Louisiana yesterday.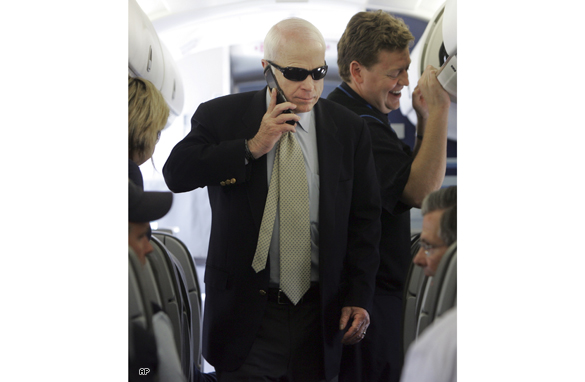 Have fun with it.
Make sure to include your name, city, state (or country) so we can post your comment.
UPDATE: Barclay wins for the staff with, "John McCain plays his trump card, revealing he's on a secret mission to save the world from hostile aliens, in Men in Black 3." For the viewers, Caroline from Iowa wins with, "Yes, Cindy, I'm still your boo."
Congratulations!