Hey Bloggers!
Crack open a cold one, its time for 'Beat 360°"
Everyday we post a picture – and you provide the caption. Our staff will get in on the action too.
Tune in every night at 10p ET to see if you are our favorite! Can you Beat 360°?
Here is the 'Beat 360°' pic of the day: Democratic presidential hopeful, Sen. Hillary Rodham Clinton, hoists a "Presidente" beer at Sabor Latino Restaurant & Bar in San Juan, Puerto Rico.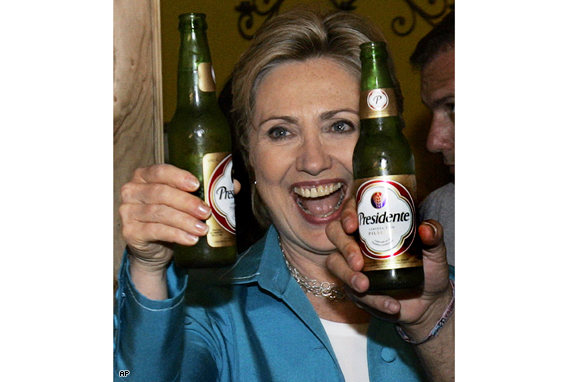 Here's one or two to get you started:
Vowing her 'spirits' are high, Hillary reminds us how badly she wants to 'Cerveza' as our Commander in Chief.
Hillary Clinton looking ahead at what's up 'on tap': The Puerto Rico primary
Have fun with it.
Make sure to include your name, city, state (or country) so we can post your comment.
David M. Reisner
360° Digital Producer

UPDATE: Check out our Beat 360° winners!