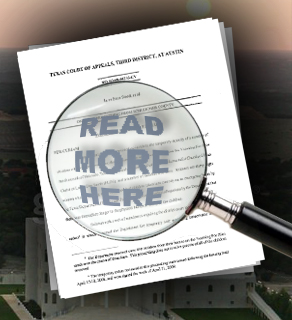 You can read the court's ruling on the legality of removing of 400+ children from a polygamist compound here.
David M. Reisner
360° Digital Producer
This is just crossing the wires:
An Appeals court has ruled that the state of Texas should not have removed the more than 400 children it took from a polygamist sect's ranch
In its ruling, the Texas 3rd District Court of Appeals decided in favor of 38 women who had appealed the removals, as well as a decision last month by a district judge that the children will remain in state custody.
The ruling stated:
"The legislature has required that there be evidence to support a finding that there is a danger to the physical health or safety of the children in question and that the need for protection is urgent and warrants immediate removal,"

"Evidence that children raised in this particular environment may someday have their physical health and safety threatened is not evidence that the danger is imminent enough to warrant invoking the extreme easure of immediate removal prior to full litigation of the issue."
The children were removed last month from the Yearning for Zion (YFZ) Ranch, owned by the Fundamentalist Church of Jesus Christ of Latter-day Saints, a Mormon offshoot that practices polygamy.
From our Ed Lavandera:
"This ruling out of Austin goes on to say the family and protective services division (the agency in charge of removing the children from the compound) did not prove the children were in danger and they needed to be removed from their homes."

"You can imagine what the reaction is going to be in the coming ours from those involved with the sect and those who live in the compound... "

"State officials are also saying they still need more time to investigate and they are still in that process. "
Watch 360° for in-depth coverage and share your thoughts here: