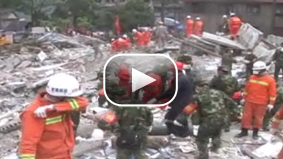 CNN's John Vause reports on the heartbreaking task of looking for survivors of China's big earthquake.
David M. Reisner
360° Digital Producer

Hey Bloggers,
Wanted to update you on the latest rescue efforts in southwest China after the massive earthquake three days ago. The government says the death toll could rise from nearly 20,000 now to more than 50,000.
More soldiers scrambled to the hardest-hit areas, using 110 helicopters. More than 2,000 medical workers have moved to the region.
Parents are waiting at destroyed schools, hoping their children will be pulled alive from the debris.
CNN's John Vause reached the epicenter, and describes his journey here:
Audio report: click here
video update: click here
Blog dispatch: (see below)
Today we were stopped at a checkpoint about 18 miles from Beichuan county... the road was reserved for emergency vehicles. So we set out on foot... our cameraman took a motor bike with gear, a colleague and I continued to walk..

A few miles in we hitched a ride with a dump truck picking up anyone on the side of the road...

He stopped about six miles in... We walked again, maybe a mile, flagged down a motorcycle cab (bike with tray attached to the back)... He took us another six miles... Then we jumped another pickup, crowded with refugees.

When we reached the outskirts of the city, we caught up with our cameraman... But the area was closed to foreign reporters.

So we went off road, around the checkpoint, walking through crops and mud.. The road had been closed by a massive landslide, preventing earth-moving equipment from getting in...

So we marched through the hills, it was tough going for about an hour and half... Then we reached downtown.. to the center of disaster.