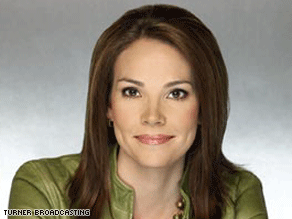 Erica Hill
360° Correspondent
Does your neighbor have enough to eat? Can they afford milk, fresh vegetables for their kids?
Yes, the people next door who look just like you...they have a mortgage, one - maybe two - cars, and a mounting pile of bills they can't pay.
There are 35 million Americans at risk of going hungry tonight, and they're not all homeless or unemployed. The "new" hungry Americans are educated, middle-class folks - many have full-time jobs - and their cupboards are bare.
Here in NYC, the main food bank for the five boroughs has seen a 73 percent increase in people with full-time jobs coming in for help. Food pantries are their last resort, but many are too proud or to embarrassed to let anyone know they need the help.

I was at a food pantry in Stamford, CT yesterday where one woman told me she couldn't speak to me on camera because there it was too risky; one of her friends might recognize her.
One of the staff members there told me she saw a person from another town come through the line, clearly there to avoid being seen. She also pointed out two men who had "dressed down", trying to blend in.
In Brooklyn on Tuesday, we met a woman who personifies this crisis. She was stunning - totally put together, attractive...you'd expected to see her having lunch at the table next to you. She had a successful career as an administrative assistant before retiring a few years ago. She never thought she'd need help, but there she was at the pantry. It was her second trip, and she seemed so ashamed. She was incredibly gracious and kind, but she, too, didn't dare get near the camera for fear someone would learn her secret.
There is, of course, nothing to be ashamed of or embarrassed about, but I can understand why any of these people would feel that way. You work your whole life, do all the right things, pay your bills, go to work...only to find that it's not enough anymore to put food on the table.
Tomorrow, postal carriers around the country will hold the 16th annual Stamp Out Hunger food drive. This is a chance for ALL of us to help. One box of cereal or pasta, a few cans of vegetables, a jar of pasta sauce can do so much.
I have one plea before you empty your cabinets: only donate items you would eat. Expired canned goods and other inedible items increasingly find their way into the donation bin.
"The quality of the food is dropping in some respects," Kate Lombardo, Executive Director of the Lowe Fairfield County (CT) Food Bank told me. "Which is not to offend the donor, it's just to express to donors that if you don't want it on your table, then the poor are not any less of an individual or human being just because they're poor. They're just in a financial state that they don't want to be in."
For more information on the food drive, log onto Help Stamp Out Hunger.