David Reisner
360° Digital Producer

A U.S. diplomat says the Myanmar cyclone death-toll may top 100,000…
It's hard to fathom just how many people 100,000 really amounts to.
How do we take in the death of that many people at once?
Here's one way to look at it: Imagine any one of these U.S. cities disappearing - overnight.
That drives it home for me, what about for you?
U.S. CITIES WITH POPULATION AROUND 100,000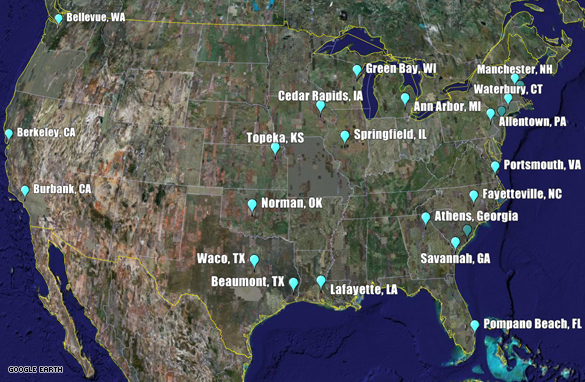 Berkeley, California
Burbank, California
Waterbury, Connecticut
Pompano Beach, Florida
Athens-Clarke County, Georgia
Savannah, Georgia
Springfield, Illinois
Cedar Rapids, Iowa
Topeka, Kansas
Lafayette, Louisiana
Cambridge, Massachusetts
Ann Arbor, Michigan
Manchester, New Hampshire
Elizabeth, New Jersey
Fayetteville, North Carolina
Norman, Oklahoma
Allentown, Pennsylvania
Charleston, South Carolina
Beaumont, Texas
Waco, Texas
Portsmouth, Virginia
Bellevue, Washington
Green Bay, Wisconsin
Source: U.S. Census Bureau 2006