Editor's note: WE ARE UP FOR A 'WEBBY AWARD', THANKS TO YOU!- SO VOTE FOR US HERE!
_____
Hey Bloggers!
Sorry to 'string' you along like this... I know you've been waiting all morning – So lets do this: It's time for 'Beat 360°.'
Everyday we post a picture – and you provide the caption. Our staff will get in on the action too.
Tune in every night at 10p ET to see if you are our favorite! Can you Beat 360°?
Here is today's "Beat 360°" pic of the day: Toyota's violin-playing robot plays at Universal Design Showcase on last year in Tokyo, Japan. The robot, which has 17 joints in both arms, uses precise control to play the violin.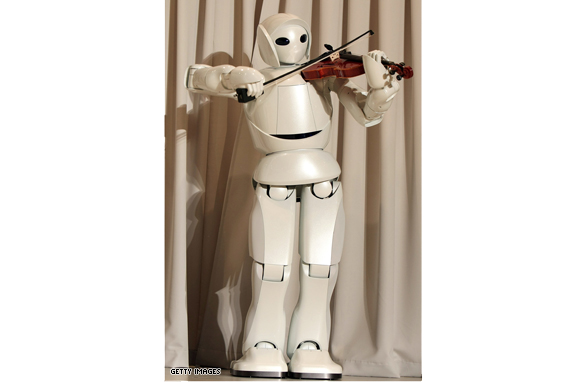 Here's one to get you started:
Performing "CTRL + ATL + DELETE" in D minor
Have fun with it.
Make sure to include your name, city, state (or country) so we can post your comment.
– David Reisner, 360° Digital Producer