Editor's note: WE ARE UP FOR A 'WEBBY AWARD', THANKS TO YOU!- SO VOTE FOR US HERE!
_____
Hey Bloggers!
Happy Tuesday! (If there is such a thing) Let's dive right in to today's picture shall we? It's time for 'Beat 360°.'
Everyday we post a picture – and you provide the caption. Our staff will get in on the action too.
Tune in every night at 10p ET to see if you are our favorite! Can you Beat 360°?
Here is today's "Beat 360°" pic of the day: Meet Mondex, a 5-year-old Chihuahua, striking a pose as he walks the aisle dressed as a scuba diver during a dog show at a mall in suburban Manila. (Mondex bagged first place during the fashion show category!)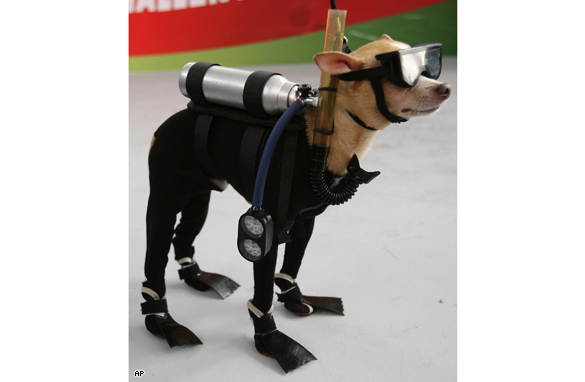 Have fun with it.
Make sure to include your name, city, state (or country) so we can post your comment.
– David Reisner, 360° Digital Producer
UPDATE: Check our Beat 360 winner!